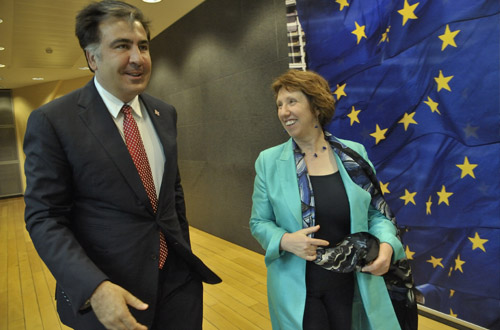 President Saakashvili and EU High Representative for Foreign Affairs and Security Policy and Vice President of the European Commission Catherine Ashton, Brussels, June 27. Photo: European Commission Audiovisual Services
President Saakashvili is visiting Brussels to meet with senior officials from the European Commission and to participate in a summit of European People's Party (EPP).
On June 27 Saakashvili met with EU foreign policy chief Catherine Ashton; EU Energy Commissioner Gunther Oettinger; Commissioner Enlargement and European Neighbourhood Policy Štefan Füle, as well as President of the European Parliament Martin Schulz.
On June 28 he plans to meet with European Commissioner for Development Andris Piebalgs and will participate in the enlarged summit of EPP. On June 27 Saakashvili met with EPP President Wilfried Martens.
President Saakashvili's ruling United National Movement Party is an observer member to EPP since 2008.
Before visit to Brussels, President Saakashvili was in Istanbul where he participated in a summit marking 20th anniversary of the Black Sea Economic Cooperation (BSEC) and met with his Turkish counterpart Abdullah Gül on June 26.