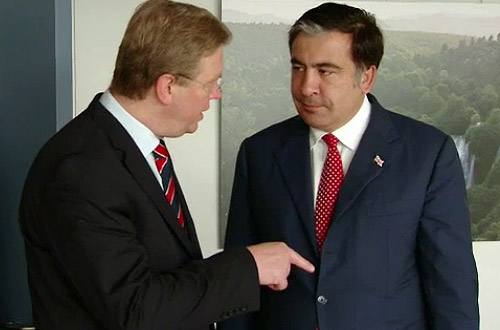 A grab from footage showing EU Commissioner for Enlargement and European Neighbourhood Policy Štefan Füle (left) and President Saakashvili before a meeting in Brussels on June 28.
The European Union is "increasingly concerned about growing political tension and polarization in the run-up to the parliamentary elections" scheduled for this October, said EU Commissioner for Enlargement and European Neighbourhood Policy Štefan Füle after meeting with President Saakashvili in Brussels on June 28.
"The parliamentary election in October and presidential elections in 2013 will be important test cases for Georgian democracy and we encourage all political forces to respect the electoral process and make sure that the voting is free and fair," Füle said. "I have expressed the conviction that the elections will be first of all about political programmes and ideas."
He also said that the EU was watching developments in the media landscape with particular attention.
In a press release the European Commission said Füle acknowledged that Georgia had made remarkable progress in its modernization reform efforts and said that the EU would continue supporting these efforts within the instruments of the Eastern Partnership.
"It is also clear that Georgia needs to take further steps and continue this path of modernization and to consolidate democracy," Füle said.
Commissioner Füle also said, that EU supports the use of status neutral travel documents, launched by Tbilisi for residents of its breakaway regions of Abkhazia and South Ossetia.
In Brussels President Saakashvili also met with EU foreign policy chief Catherine Ashton; EU Energy Commissioner Gunther Oettinger; European Commissioner for Development Andris Piebalgs and President of the European Parliament Martin Schulz.
President Saakashvili is in Brussels to participate in a summit of European People's Party (EPP) in which his ruling United National Movement party is an observer member.
Saakashvili said in televised remarks on June 27, that developments having "decisive" and "historic" importance for Georgia were taking place in relations with the EU.
"I am sure that in next 16-18 months we will get free trade regime with the Europe," Saakashvili said, referring to deep and comprehensive free trade agreement with the EU. "And also in the same period… every Georgian citizen should be able to travel visa-free in the European Union."
"We are working very actively on both of these issues," Saakashvili said.
In the same remarks, President Saakashvili also mentioned Georgia's internal politics and said that there were "cheap attempts to buy the votes of our people with money coming from one country".
"That is a complete disrespect of the choice of our people, which is not only unacceptable, but is uncivilized too," Saakashvili said.
He also said that the Georgian government would announce a new program in next few days and Georgia's Euro-Atlantic integration priority would take an important part in this program, along the issues related to Georgia's domestic priorities.