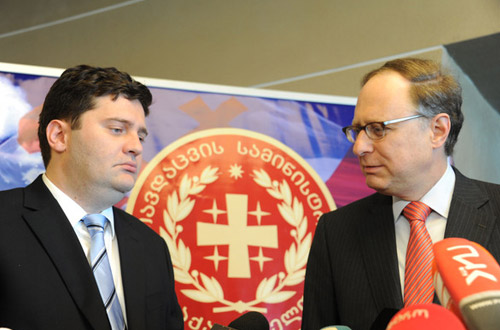 NATO Deputy Secretary General Alexander Vershbow (right) and the Minister of Defense of Georgia, Bacho Akhalaia (left), Batumi, June 29. Photo: NATO
Georgia advances "steadily" towards NATO membership and made "remarkable progress", but there is "still plenty of work to be done," said Alexander Vershbow, NATO's Deputy Secretary General, who paid a two-day visit to Georgia.
Speaking at a Georgia Defence and Security Conference in Black Sea resort of Batumi on June 29, Vershbow said that "NATO is based on shared values and principles – freedom, democracy, human rights, and the rule of law."
"Any country that hopes to become a member of NATO must be fully committed to those same values and principles. NATO Allies have been pleased to see a very positive dynamic in Georgia's democratic development. Building strong democratic institutions is a vital part of this development," he said.
"But here too more needs to be done," said NATO's Deputy Secretary General and former U.S. Assistant Secretary of Defense. "In particular, it is essential that there be an open and transparent political process, and level playing field for all players, with equal access to the media, and clear rules of the road applied consistently to all."
"This will be one of the keys to Georgia's success in realizing its membership aspirations. And so we expect the parliamentary elections this year, and the Presidential elections next year, to be free, fair and inclusive," Vershbow added.
He said that Georgia's significant contribution to NATO-led Afghan operation, as well as its participation in major meetings on sideline of NATO Chicago Summit this year was "powerful demonstration of just how deep this country's partnership with the Alliance has become.
"And it was also a clear demonstration of how Georgia has successfully transformed itself from being a security consumer to being a valuable security provider, as it advances steadily toward its declared goal of NATO membership," Vershbow said.
He said that it was of "crucial" importance "to strengthen the capacity and effectiveness of institutions, and to further enhance the interoperability of Georgia's military forces with those of the Alliance."
Reiterating NATO's open door policy, Vershbow said that Georgia "is one of NATO's strongest security partners", which "is well on its way to becoming a member of our Alliance."
"Allies have not yet decided when that will happen, but NATO will continue to support your efforts to make that aspiration a reality," he said.
He also reiterated NATO's support to Georgia's territorial integrity, saying that the Allies "will not recognise the so-called independence of Georgia's regions of Abkhazia and South Ossetia" and called on Russia to reciprocate Georgia's unilateral non-use of force pledge.
"At the same time, NATO will also look to improve its own relations with Russia, because NATO and Russia are both key players in the security of this continent and the entire Euro-Atlantic area," Vershbow said.
During his visit to Georgia on June 28-29, the NATO Deputy Secretary General met with Georgian Defense Minister Bacho Akhalaia; Interior Minister Vano Merabishvili; Secretary of National Security Council Giga Bokeria; State Minister for Euro-Atlantic Integration Giorgi Baramidze and Parliamentary Chairman Davit Bakradze, as well as representatives of opposition parties.