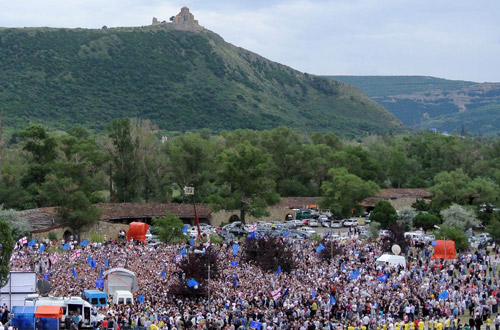 People gathered at a campaign rally of Bidzina Ivanishvili-led Georgian Dream opposition coalition in Mtskheta, July 1. Photo: InterPressNews
Bidzina Ivanishvili, leader of Georgian Dream opposition coalition, named during a campaign rally in Mtskheta on July 1 majoritarian MP candidates for all of the four single-mandate constituencies located in the Mtskheta-Mtianeti region.
Outdoor campaign rally in small town of Mtskheta, close to Tbilisi, was fourth of this kind since late May, when Georgian Dream formally launched campaigning for the October parliamentary elections with a large-scale rally in Tbilisi, followed by rallies in Kutaisi and Ozurgeti in June.
Ivanishvili said on Sunday that the next campaign rally would be held in Gori, the main town of Shida Kartli region, on July 15.
Ivanishvili named his long-time friend Irakli Tripolski as Georgian Dream's majoritarian MP candidate for Dusheti single-mandate constituency. Tripolski, who has produced and directed several documentary films, was a chairman of the Georgian Public Broadcaster's board of trustees for few months in 2008 before quitting the post citing the public broadcaster's "biased reporting" in favor of the authorities.
Member of Ivanishvili's party, Zakaria Kutsnashvili, will run in Tianeti single-mandate constituency. Kutsnashvili, a lawyer, was a member of parliament in 1999-2004.
Ivanishvili named a doctor Mirian Tsiklauri as Georgian Dream's majoritarian MP candidate for Kazbegi single-mandate constituency. Also a doctor, Dimitri Khundadze, will run in Mtskheta single-mandate constituency.
With this recent announcement the Georgian Dream has so far nominated majoritarian candidates for 14 out of total 73 single-mandate constituencies. Rest of the 77 seats in 150-member Parliament will be allocated through proportional, party-list contest.
In speech before thousands of supporters in Mtskheta, Ivanishvili said that there "is no obstacle that can stop me" and added that the process launched by his coalition was "irreversible", which would culminate into victory in the October elections.
Before the rally in Mtskheta he visited several villages of Mtskheta-Mtianeti region, including a small town of Stepantsminda (formerly Kazbegi) not too far from the Larsi border-crossing point with Russia, which was reopened over two years ago. During his speech at the rally Ivanishvili briefly touched upon this issue, criticizing the Georgian authorities and suggesting, without giving details, that it was possible to reopen the border under much better terms for Georgia.
Ivanishvili also said that President Saakashvili's was trying to push the Georgian Dream to launch street protest rallies. "But we will not yield; we will bring our struggle to its end and we will win through elections," he said.