Merabishvili – new Prime Minister;
Akhalaia – new Interior Minister;
Shashkin – new Defense Minister;
Dekanoidze – new Education Minister;
Minister in charge of IDP issues also replaced;
New post of minister in charge of employment;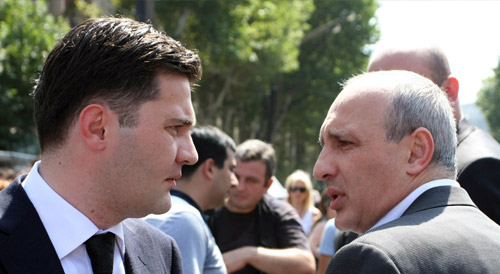 Bacho Akhalaia (left) and Vano Merabishvili (right) seen on this file photo from September, 2009. Photo: InterPressNews
In the most significant cabinet reshuffle in years powerful political figure Vano Merabishvili will become new PM ahead of parliamentary elections, leaving his post of Interior Minister, which he held for more than seven years, now to be taken by Bacho Akhalaia, who was the defense minister since 2009.
President Saakashvili's one of the closest allies, Akhalaia, 31, will now be in charge of the powerful ministry uniting under its subordination broad range of "power-wielding agencies" from police, security and intelligence services to border guard and navy – a consolidated system built under Merabishvili's leadership.
In all the rumors and speculation preceding the naming of reshuffled cabinet – some of them correctly predicting Akhalaia's move to the Interior Ministry – there was also speculation, turned out to be wrong, that someone from within the Interior Ministry, who is Merabishvili's close associate, could have possibility been picked up as his successor.
It is not yet clear what, if any, changes will be carried out in senior staff of the ministry after Akhalaia formally takes over the minister's post as Parliament is expected to approve reshuffled cabinet on July 4.
Shortly after the reshuffled cabinet was named before the noon on Tuesday, Merabishvili made a televised statement and stressed for couples of times in brief remarks that it was him who had requested President Saakashvili to nominate Akhalaia as new Interior Minister.
"It was my request," incoming PM Merabishvili said, adding that he is "glad" his recommendation was shared by Saakashvili. "Of course I can't be indifferent towards the fate of the Interior Ministry. I believe that Bacho Akhalaia is the best candidate to maintain and continue the course and reforms, which our ministry was pursuing during my tenure. I have a guarantee and I am sure that Bacho is the best candidate and I am very glad that my initiative was supported by the President. Of course, we will continue, together with other government members, reforms at all ministries and all agencies."
In August, 2009 when Saakashvili promoted then 29-year-old Akhalaia as Defense Minister three months after a mutiny in Mukhrovani-based tank battalion, President cited need for "much stricter hand" in the defense sphere as one of the reasons behind his decision.
According to one leaked U.S. embassy cable, detailing possible reason behind Saakashvili's decision to appoint Akhalaia as defense minister, an influential figure in Saakashvili's administration, Giga Bokeria, who is now secretary of national security council, told then-U.S. ambassador to Georgia that "Akhalaia is 'Misha's guy', not 'Vano's guy'." Bokeria, according to that cable, "urged the United States not to view this appointment as MOIA [Ministry of Internal Affairs] moving in on MOD [Ministry of Defense] turf." Akhalaia "is viewed by Saakashvili as effective," reads the cable dated August 31, 2009.
Bacho Akhalaia's father, Roland Akhalaia, is chief prosecutor in Samegrelo region. His brother, Data, led the Department of Constitutional Security (DCS) at the Interior Ministry. Data Akhalaia was suspended from his post in 2006 following a scandal involving murder of Sandro Girgvliani – the case which turned into one of the most serious challenges for Merabishvili during his tenure as Interior Minister. Data Akhalaia was then restored on the post of head of DCS, but on July 3, the Interior Ministry said in a statement that Data Akhalaia resigned after his brother was named as new Interior Minister.

With the appointment of a political heavyweight as PM – that is the first time when influential figure takes this post since the death of Zurab Zhvania in early 2005 – Merabishvili, along with Saakashvili himself, turns into a key figure to lead the ruling United National Movement party's electoral campaign ahead of the October elections.
The campaign is likely to be centered on the government's new program titled "More Benefit to the People" key points of which were outlined by Merabishvili on July 2.
Even in his capacity of the Interior Minister, Merabishvili had already been involved in campaigning recently, meeting behind closed doors together with other senior officials and ruling party politicians with various professional groups ranging from doctors to public servants and talking about already carried out reforms and government's future plans.
Ghia Nodia, political analyst and head of the International School of Caucasus Studies at the Tbilisi-based Ilia State University, who held education minister's post for several months in 2008, thinks appointment of Merabishvili as PM is kind of "a hint" indicating that Saakashvili may not seek to stay in power as PM after his second and final presidential term expires in late 2013; he, however, also says that the recent cabinet reshuffle is not making the issue "fully clear."
After the Parliament approves new PM on July 4, Merabishvili is likely to retain his new post at least before the new Parliament, elected in October, is convened.
According to the constitution after the October elections, the government and PM will have to resign and President Saakashvili will have to present new cabinet or re-submit the one existing at the time to the new Parliament for confidence vote.
Georgia's new constitution, which will significantly increase PM's powers at the expanse of presidential authority, will go into force after the presidential elections in late 2013.
Vice-Speaker of the Parliament from Christian-Democratic Movement, Levan Vepkhvadze, believes that if the ruling party wins majority in the new Parliament Merabishvili is most likely to be the one who will retain PM's position in post-2013 presidential election, hence becoming Georgia's leader.
"Merabishvili is not kind of a figure who can be told after [2013] presidential elations: 'Relinquish your PM's post for me'. In case of the ruling party's victory in the parliamentary elections, Merabishvili will remain PM till 2016, which means that a question whether Saakashvili will be PM or not has already been answered – No," MP Vepkhvadze said.
But some commentators in Georgia say it is too early to make such far-reaching conclusions, arguing that Merabishvili's appointment as PM may mean that he has actually been sidelined from powerful Interior Ministry.
In other changes in the cabinet Dimitri Shashkin, former education minister, was named as new Defense Minister, replacing Bacho Akhalaia.
Shashkin is relatively newcomer to Saakashvili's administration than President's other close allies. He first joined the government in early 2009 when he became the minister in charge of penitentiary system. Apart of his ministerial portfolio Shashkin, who before joining the government headed International Republican Institute's Tbilisi office, was also tasked by President Saakashvili to coordinate "new wave of democratization".
In December, 2009 Shashkin was appointed as Education Minister. In 2010 President Saakashvili praised Shashkin as "an important statesman", who can climb high up career ladder, even hinting at presidency.
During his tenure as Education Minister he came under criticism for number of times for heavy-handed tactics and the most recent controversy involved his decision to sack head of the examinations center, Maia Miminoshvili, in May. Rector of police academy, Khatia Dekanoidze, was picked up to replace Miminoshvili.
Now Dekanoidze will be promoted to the post of Education Minister, replacing Shashkin.
Along with Dekanoidze, another newcomer in cabinet will be Dali Khomeriki who will become minister in charge of IDPs, replacing Koba Subeliani. Khomeriki served as education minister in the Tbilisi-based Abkhaz government in-exile.
With Khomeriki and Dekanoidze number of female ministers will now increase to five in Georgia's new 21-member cabinet.
The reshuffle will also see introduction of a new post – Minister for Employment, which will be held by Paata Trapaidze, a chief executive of construction firm Caucasus Road Project Ltd.
Other ministers remain unaffected by the cabinet reshuffle.