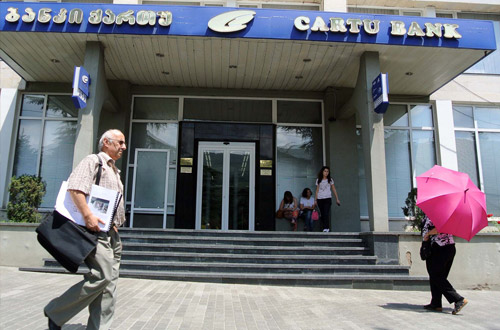 A man passes by headquarters of the Cartu Bank in Tbilisi, July 13. Photo: InterPressNews
A new manager, appointed by the state to oversee impounded banking assets of Georgian Dream leader Bidzina Ivanishvili, has sacked Cartu Bank's CEO Nodar Javakhishvili and other top managers.
Supervisory board of the bank has also been replaced after Vladimer Ugulava, the manager of 100% of shares of Cartu Group, a holding affiliated to Ivanishvili also incorporating Cartu Bank, stepped in to take charge of the bank.
100% of Cartu Bank, as well as 21.7% of shares in Progress Bank was impounded by the state and placed under temporary conservatorship after Ivanishvili refused to pay multi-million fine.
Nodar Javakhishvili, who also was chairman of supervisory board of Cartu Bank, was picked up by Ivanishvili to lead his bank in October after sacking the previous chief executive, accusing him of being government's "agent". Javakhishvili, who was head of the Georgian central bank in mid 1990s, was a member of opposition National Forum party before joining Cartu Bank.
The National Bureau of Enforcement (NBE) put 100% shares of Cartu Bank and 21.7% shares in Progress Bank on auction earlier this month after Ivanishvili refused to pay GEL 74.32 million fine imposed on him in June for alleging violating party funding rules. Ivanishvili says that he is no longer a beneficial owner of Cartu Bank after handing over his shares to his eldest son Uta.
Online auction in which starting price for Cartu Bank was GEL 75.94 million and for 21.7% shares in Progress Bank - GEL 1.78 million, was closed on July 10 without anyone making a bid. After that NBE announced about imposing, as it put it, "forced management regime" on these assets, saying that the regime aims at extracting amount of fine which Ivanishvili refused to pay. NBE said that while the debtor will remain owner of the property, "new manger" will enjoy with "all the rights of owner until termination of the forced management regime."