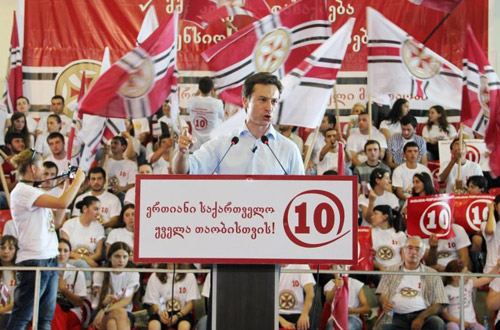 CDM leader Giorgi Targamadze addresses supporters in the sports palace in Kutaisi on July 13; banner on his lectern reads "United Georgia for All Generations". Photo from CDM's Facebook page.
Christian-Democratic Movement (CDM), which has a small group in the Parliament, formally launched on July 13 its campaign for the October parliamentary elections with a rally in packed sports palace in Kutaisi, the country's second largest city where the new Parliament will be located.
CDM, which its leader MP Giorgi Targamadze described as "national, pro-Western, patriotic" political force, is the third most popular political group in Georgia after ruling United National Movement party and Bidzina Ivanishvili-led Georgian Dream coalition, according to polls conducted few months ago.
Targamadze said on July 13, that CDM "will take serious position in the future Parliament in terms of number of representatives."
"A new electoral stage started today, which should leave a deep Christian-Democratic footprint in Georgia's future. We are not in politics for one day, we have long-term interests," he said.
"I am proud that we have built a political party, which is not sold for money," MP Targamadze said.
These remarks were apparently addressed to those political parties, which joined Bidzina Ivanishvili-led Georgian Dream coalition and which are accused by opponents of being with Ivanishvili because of his wealth. Ivanishvili and his allies accuse CDM of being "pseudo opposition" party.
Social issues will top CDM's campaign with its leader telling supporters in Kutaisi that the party's program would be based on the slogan: "education for kids, employment for parents and respect for elderly".
CDM has vowed to increasing public school teachers' minimal monthly salaries to GEL 900 and to cut utility tariffs.

The CDM leader linked solving of unemployment problem to the need of reducing electricity tariffs, saying that it would help to boost small businesses. Cutting utility tariffs was also the key part of CDM's campaign ahead of local elections in 2010.
In particular, CDM is proposing to buy back two electricity distribution companies – Telasi, an electricity grid in capital Tbilisi in which 75% is owned by Russia's state-controlled power trader, Inter RAO, and 24.53% - by the Georgian state, and Energo-Pro Georgia, a local subsidiary of the Czech company Energo-Pro, which distributes electricity to about 864,000 customers outside Tbilisi.
"The shortest way to do that [to cut electricity tariff] is to make direct state investments and to buy back Telasi and Energo-Pro," MP Giorgi Targamadze said in an interview with Rustavi 2 TV.
Cutting of utility tariffs is also part of Ivanishvili's pre-election promises, which even triggered rumors that the billionaire politician was eyeing on purchasing Telasi and gas distribution company in Tbilisi.