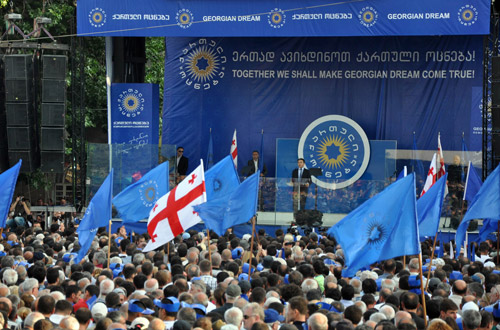 Georgian Dream's campaign rally in Gori, July 15. Photo: InterPressNews
Bidzina Ivanishvili, leader of opposition coalition Georgian Dream, held on July 15 a large outdoor campaign rally in Gori, the main town of Shida Kartli, a region heavily affected by the August, 2008 war.
In his forty-minute long speech Ivanishvili reiterated his coalition's main pre-election promises ranging from agriculture development to social protection and healthcare, but unlike in his previous campaign speeches in other towns, in Gori Ivanishvili spoke much about the August, 2008 war and the need for reconciliation.

In November, 2011, during his first-ever press conference, less than a month after announcing about going into politics, Ivanishvili said, citing Tagliavini report, that it was Georgia, which "launched the military actions" in August, 2008. He said that President Saakashvili responded to the shelling of Georgian villages in the conflict zone in August, 2008 with "absolute recklessness by shelling Tskhinvali." Since then those remarks have often been cited by Ivanishvili's opponents while alleging that he is a Kremlin stooge. Commenting on a fist-fight incident during Ivanishvili's campaign meeting in the village of Mereti close to breakaway South Ossetia's administrative border in late June, Parliamentary Chairman Davit Bakradze suggested that the incident could have been a reaction of those people, who were angry about Ivanishvili's remarks about the war's start.
In lead up to the Gori rally, Ivanishvili gave an interview to the local television station, Trialeti, and said: "I do not think that Georgia started the war."
"I am accused of as if saying that 'Georgia started the war'. I have not said that Georgia started the war. Georgia could not have started the war because it all happened on the Georgian territory. The fact that I accuse Saakashvili of reckless actions has been portrayed as if I am accusing Georgia of starting the war. I have never said and I will never say that Georgia started the war. I accuse one man and his ideology – that is Saakashvili, who acted feebly and recklessly during the developments in August [2008]," Ivanishvili said, adding that President Saakashvili should have brought in western observers and evacuated local population in order to defuse tensions, instead of ordering launch of military actions.
Ivanishvili repeated same position during his speech at the rally in Gori.
"I do not think that Georgia started the war. We have not crossed into the Russian territory, but we cannot shun away from the fact that in response to shelling of the Georgian villages the Georgian authorities launched military actions without calculating possible consequences. No one can be happy about it," Ivanishvili said, adding that authorities acted "shamefully" during the war.
"It is immoral to claim almost a victory in the war, which resulted into occupation of over hundred villages. We should say the truth no matter how bitter it might be," he said.

He also spoke about the need for reconciliation and also about the need to find strength "to admit our own guilt".
"Together we will find strength and we will be able to forgive. We will be able not only to forgive, but also to admit our own guilt and to repent," Ivanishvili said. "We will extend our condolences to Ossetian mothers, we will help them to find their missing children, we will carry out fair investigation, we will correct what is still possible to rectify."
"We will find ways to reach out to our Ossetian brothers and sisters and we will definitely restore relations with them," Ivanishvili said. "We will launch direct dialogue with our Ossetian brothers, we will use public diplomacy, we will find shared interests on which our future relations will be based."
Ergneti Market
In this context he then also spoke about the need to restore a market in Ergneti, a village on the administrative border with breakaway South Ossetia, close to Tskhinvali.
Before being closed down in 2004 by the Georgian authorities, it was probably the largest trading center for goods smuggled from Russia. Mainly fuel, food, wheat, and tobacco products were smuggled from Russia via breakaway South Ossetia into the Ergneti Market and then to the rest of the Georgia. The goods were also smuggled from Georgia to Russia, mainly alcohol products. According to the Georgian authorities the closure of the market triggered decrease in smuggling and an increase in budgetary revenues. The closure of the market was a serious blow for de facto authorities in Tskhinvali for whom the trade in smuggled goods represented a serious source of income. But critics argued that the move resulted in lost jobs for many locals on the both sides of administrative border and into reducing contacts between Georgians and Ossetians.
In his speech in Gori, Ivanishvili said that market in Ergneti was an important tool for keeping ties between Georgians and Ossetians
"That was the place not only where they [Georgians and Ossetians] were meeting each other, but also a venue for being engaged in joint businesses… At that time Georgians and Ossetians rediscovered that they needed each other," Ivanishvili said.
"If the authorities cared about the peaceful resolution of the conflict, they would not have closed down Ergneti market so thoughtlessly. Closure of that market was a result of our government's reckless policy," he said.
"Only we can rectify that mistake," he continued. "After coming into power, we will restore Ergneti market legally in frames of the law. We will calculate everything thoroughly and take into consideration all the risks."
Foreign Policy
Unlike his other campaign speeches, in Gori Ivanishvili also spoke bit more about foreign policy and said that Georgia "should gain more meaningful support" from the EU, the United States and other partners.
"We'll be able to gain such support only after Georgia genuinely gets on the path of democracy development," he said.
He also reiterated that Georgia's pro-Western orientation, EU and NATO integration "is our strategic choice, which has no alternative."
"But we cannot choose neighbors. Regardless of everything, we will have to normalize relations with Russia. I think that after coming into power we will be able to return Georgian products back to the Russian market. Unlike authorities, which have incorrect and unprincipled policy, our policy towards Russia will be correct, but principled," he said.