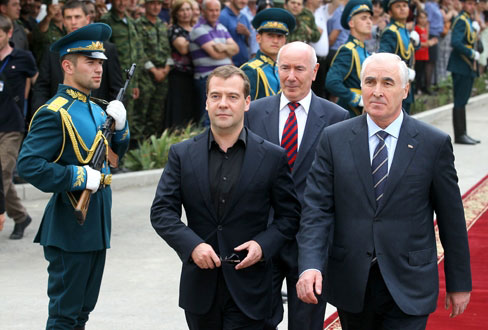 Russia's PM Dmitry Medvedev (left) and breakaway South Ossetia's leader Leonid Tibilov (right) in Tskhinvali, August 8. Photo from Russian government's website
Russia's Prime Minister, Dmitry Medvedev, arrived in capital of Georgia's breakaway South Ossetia on August 8 – on the fourth anniversary of the war with Georgia.
According to a press release on the Russian government's website, Medvedev, who during the August 2008 war was Russia's President, arrived in Tskhinvali to take part in commemoration ceremony of the fourth anniversary of the 2008 conflict.
The Russian PM met with South Ossetian leader Leonid Tibilov, who thanked Medvedev for his "timely decision" four years ago "to force the aggressor to peace".
PM Medvedev said: "Four years ago people died as a result of barbarian aggression."
"Russia had to take a decision to help the people of South Ossetia and to repel aggressor. It was done timely and it was possible quickly enough to prevent significantly more casualties. I will not hide it, that it was a special day for me, because I had to take whole set of difficult decisions, military decisions, which eventually restored balance and, what is the most important, brought peace in South Ossetia. These were right and fair decisions," Medvedev said.
He also said that Russia would continue providing aid to Tskhinvali and "defending people of South Ossetia."