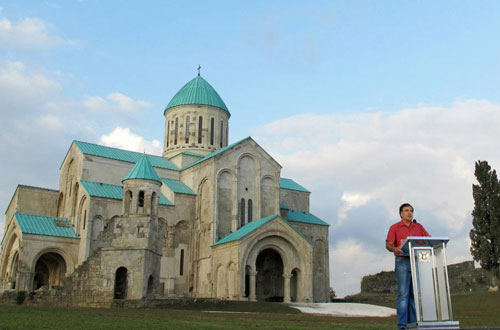 President Saakashvili making televised address from the Bagrati Cathedral in Kutaisi, September 14. Official photo from President's administration.
In a televised address to the nation on September 14, President Saakashvili called on Georgians, regardless of their political views whether "rightist", "leftist", "dreamer" or ruling party supporter, to put aside differences on the most essential issues for the country and show unity.
Saakashvili made the address standing on a background of newly restored Bagrati Cathedral in Georgia's second largest city of Kutaisi. After a formal inauguration ceremony while beginning his second presidential term in 2008, he also took a spiritual oath in the ruins of the same cathedral of Bagrat III, the first monarch of the united Georgia who ruled in the early eleventh century. Saakashvili used the same venue to make televised address to the nation on the eve of parliamentary elections in 2008.
Among the issues on which, the President said, unity of all the political forces was required for Georgia's further progress, he named not letting Georgia back into the past; relations with Russia and issue of "de-occupation" of Abkhazia and South Ossetia, as well as Georgia's Euro-Atlantic integration. These are the issues on which the ruling United National Movement (UNM) party frequently attacks Bidzina Ivanishvili-led opposition coalition Georgian Dream, suggesting that none of these goals of Georgia will be accomplished if the billionaire opposition leader comes into power. One of the most recent case over which Ivanishvili was attacked was his remarks in an interview with Agence France-Presse (AFP) in which he refused to criticize Russian President Vladimir Putin, citing that he did not want to imitate Saakashvili and "start criticizing a big country. We will have to talk to [Russia] and to normalize our relationship, and I do not want to hamper this."
In his televised address President Saakashvili said it was Georgian democracy's gain that political parties "have unrestricted possibility" to run a campaign ahead of the October 1 parliamentary elections.
"It is also a democratic gain that views of political parties' drastically differ from each other; they may categorically disagree on which direction we should guide the country, but unfortunately, in this pre-election period we are often witnessing that people involved in politics, instead of [having] struggle of ideas and healthy polemics, are often using the spiteful and intolerant language," Saakashvili said.
"Often they leave an impression as if they are not the children of the same nation, but sworn enemies. Unfortunately, some politicians, wittingly or unwittingly, put personal political success above the country's success," he said.
"We may have differing visions on economy, but we cannot but be united by a goal to never return our country back into the swamp of corruption. We may have differing visions about our security policy, but we cannot but be united by a common will to never cede our country to 'thieves in law' and organized criminal groups. We may have differing visions about Georgia's foreign policy, but we cannot but be united by our common aspiration to reach de-occupation and unification of our country."
"We may like or trust differently – such people do also exist – Putin's regime, but we cannot but be united over the issue that relations with Russia cannot be established at the expense of Georgia's national interests and its sovereignty."
"We may differently look at the world political map, but we cannot but be united by Georgian nation's multi-century aspiration towards Europe and we cannot reject its will expressed through the [2008] referendum in favor of Georgia joining NATO."

"So today, from the restored Bagrati Cathedral, which is also a symbol of Georgia's revival and unity, I call on all the political parties for unity. Despite of many differences between us, I call on all the political forces to be united, first and foremost, as Georgians and as patriots of Georgia."
"Let's get united for our common goal in order to never let return of corruption in Georgia. Let's agree that our will not to ever allow raid of 'thieves in law' and organized crime in our country makes us united. Let's fight with joint efforts for withdrawal of Russian occupation troops from Georgia and for unification of the country. Let's get united on the issue that we will never build relations with Russia at the expense of our national interests and sovereignty. Let's agree that we will be united over our nation's European aspiration and that we will jointly take efforts for Georgia's NATO membership."
"Unity of all the political forces over these issues is essential for the progress of our country," Saakashvili said.
"That [unity] is essential for our people – internal political split and confrontation will bring nothing good to the people. What we now need most of all is stability and economic development. It is not time for destruction, now it is time for rebuilding. People already have many problems – there is lots of unemployment, quality healthcare is still not affordable for many people, village needs lots of help – there already are too many difficulties not to add new ones by confrontation between the political parties."
"We should be united my friends to give more benefit to people by Georgia's recent development" he said, using ruling UNM's election slogan "More Benefit to People."
"Let's not be afraid of unity, let's agree that we stand together in the most important issues for our country and our people and by doing so let's tell loudly to everyone – to enemy and to friend – that each of us, first and foremost, is Georgia's patriot and only then Christian-Democrat or Laborist; National [reference to ruling United National Movement party] or a dreamer [reference to Bidzina Ivanishvili-led Georgian Dream opposition coalition]; rightist or leftist," Saakashvili said.
"The magnificent Bagrati Cathedral has already been restored – it has been restored as a symbol of immortality of the idea of unity… Now, let's restore our national unity," he said.
Saakashvili then called on the political forces to show this unity by jointly attending ceremony of opening the restored Bagrati Cathedral on September 16.
Last week Patriarch of the Georgian Orthodox Church, Ilia II, invited "whole of Georgia, opposition and government" to attend opening ceremony of the restored Bagrati Cathedral. Bidzina Ivanishvili said on September 12 that his coalition representatives would attend the ceremony, but did not specify whether it will be him or anyone else from the Georgian Dream present at the ceremony.