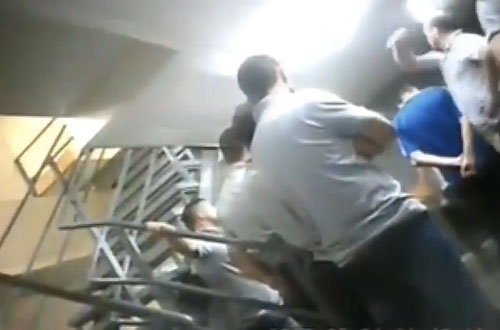 Grab from video footage in which prison guards are seen beating inmates; more shocking videos of prison officials raping inmates with stick and broom also emerged on September 18.
Series of video recordings emerged on September 18 showing graphic images of beating and raping prisoners purportedly in the prison number 8 located in Tbilisi suburb.
Shocking videos, confirming long-standing allegations about inmates' abuse, come in the midst of heated campaign period ahead of the October 1 parliamentary elections.
A spontaneous protest rally gathered in downtown Tbilisi late on September 18 after two Tbilisi-based TV stations, Maestro and Channel 9, aired, among other videos, undated graphic images showing prison guards raping with a stick an inmate as the latter was weeping and begging guards to stop it.
Hours before this video was released, the Georgian Interior Ministry said on Tuesday afternoon that three officials of the prison number 8 were arrested for inhuman treatment of inmates. The ministry has also released a footage showing two prison guards beating an inmate in a cell.
The Interior Ministry has claimed that the arrested prison officials abused inmates and made video record of it in exchange of money in a deal arranged by Tamaz Tamazashvili, an inmate who is serving his jail term in the same prison facility.
Tamazashvili is father of Bidzina Ivanishvili-led Georgian Dream opposition coalition's majoritarian MP candidate in Dedoplistskaro and father-in-law of Ivanishvili's long-time right-hand man Irakli Garibashvili, who is also running for an MP seat on Georgian Dream's party list. Tamazashvili, a former police chief in the Kakheti region, was arrested few days after Ivanishvili announced about going into politics in October, 2011; he was charged with illegal possession of firearms and sentenced to three and a half years of prison term. Ivanishvili has said for multiple times that Tamazashvili was "a political prisoner"; meanwhile the ruling party, citing that Tamazashvili held high ranking police post in pre-Rose Revolution period, is continuously targeting Ivanishvili for his links with former "corrupt" official; Tamazashvili even features in one of the negative TV ads against Ivanishvili.
In its statement the Interior Ministry also said that USD 17,000 and video recordings of inmates' abuse were found in an office of one of the arrested prison officials, who served as head of security section of the prison number 8.
The Interior Ministry also said that one former guard of the same prison, Vladimer Bedukadze, who was dismissed in May, 2012, was at large – later on the same day it emerged that Bedukadze might be one of the key figures behind this story with video recordings.
According to the Interior Ministry's version of events, several prison guards and officials were bribed by unspecified "clients" with the help of Tamazashvili; but the ministry did not specify what the motive behind this alleged deal was.
New details were added to this official version when minister in charge of prison system, Khatuna Kalmakhelidze, announced late on Tuesday afternoon that the goal of culprits was to discredit the penitentiary system.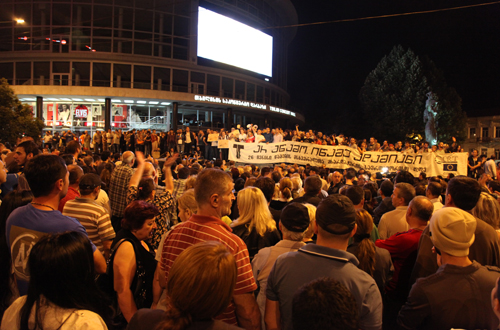 Protesters block the street at the Tbilisi State Concert Hall after midnight on September 19. Photo: Guram Muradov/Civil.ge
"Our major goal was to reveal a group of criminals, which was trying to discredit our system at the expense of inhuman treatment of inmates," Kalmakhelidze said. "Those who try to infringe rights of inmates from outside will be responded appropriately in line with the law."
Less than couple of hours after this statement by the minister in charge of prison system, Maestro TV aired a six-minute video footage showing abuse of inmates purportedly in the prison number 8. The video shows at least dozen of prison guards and officials; several of them are beating an inmate and others watching. Then guards bring another inmate and beat him too. The video, which is dated with August 24, 2012, seems to be shot, reportedly covertly, by one of the prison guards as at one point, a person with recording device, opens door of a cell and brings six other prisoners to join those inmates standing against wall and waiting for their turn to undergo harassment from the guards.
After this video was shown by Maestro TV, allegations emerged questioning official version of events. When Rustavi 2 TV asked late on Tuesday minister for prison system whether all those prison officials seen in footage aired by Maestro TV were also involved in an alleged plot to discredit the penitentiary system, Kalmakhelidze responded that "no matter how many people were involved, everyone will be punished very strictly." She also said that she had dismissed head of the penitentiary department Davit Tchakua.
More shocking videos were shown by the Maestro TV and Channel 9 TV later on Tuesday, involving graphic images of prison guards raping with a stick an inmate; in separate footage an inmate was seen tied to a cell door and raped with a broomstick.
Channel 9 TV reported that video footage was obtained by a former guard of the prison number 8, Vladimer Bedukadze, who is now in Brussels seeking political asylum. Bedukadze, whom the Interior Ministry said was wanted in connection for inhuman treatment of inmates, told Channel 9 via Skype that the video footage released by the Interior Ministry was staged and suggested that the authorities were trying to build false narrative. He also claimed that Bacho Akhalaia, the interior minister who was prison system chief in 2005-2008, was informally still in charge of the penitentiary system.
After the videos, showing inmates' rape, was aired protesters started gathering at the Tbilisi State Concert Hall (Philharmonic Hall) as rumors were swirling that President Saakashvili was attending a musical show in the Philharmonic Hall. Protesters at the rally were calling for resignation of minister for prison system, as well as for resignation of interior minister Bacho Akhalaia. The protest rally dispersed peacefully after 3am on September 19.
Public Defender, Giorgi Tugushi, who has been reporting about abuse of inmates in the prison number 8 in his annual reports, said that syndrome of impunity of those behind mistreatment of prisoners led to the current situation. He said that "the issue of political responsibility" of prison system minister, Khatuna Kalmakhelidze, should be raised. He also said that he was "depressed" after watching the videos.
In his most recent report, covering 2011, Public Defender wrote: "In order to completely eradicate [prisoners'] ill-treatment, it is essential to effectively investigate each of such case and to overcome syndrome of impunity that represents a serious problem today... The Public Defender has referred number of such cases to the Georgian chief prosecutor's office, but in most of the cases investigation is either suspended or dragged out."
In the recent U.S. Department of State's annual human rights report, "abuse of prisoners and detainees by government officials as well as dangerously substandard prison conditions" was identified among the three most important human rights problems in Georgia.