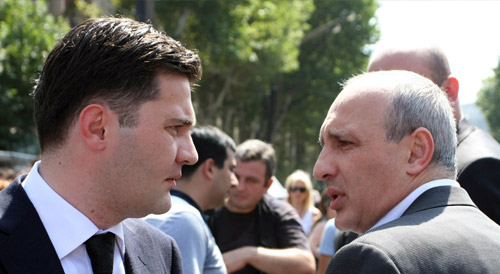 Bacho Akhalaia (left) and Vano Merabishvili (right) seen on this file photo from September, 2009. Photo: InterPressNews
Interior Minister, Bacho Akhalaia, has resigned amid ongoing protests against prison abuse.
Akhalaia was prison system chief in 2005-2008 and allegedly remained in charge of the penitentiary informally before the government was hit by prison abuse scandal following the release of shocking videos of inmates' torture and rape on September 18, less than two weeks before the parliamentary elections on October 1.
Some of those senior prison officials arrested in connection to inmates' abuse case were Akhalaia's close associates.
"I, as a citizen of our country, was appalled by the crime, which has been revealed in the Gldani prison No.8," Akhalaia said in a written statement on the Interior Ministry's website.
"Although I was no longer the head of the penitentiary for years already, some of the [officials] in its leadership, who were obliged to prevent such appalling cases, started working [in the penitentiary system] when it was led by me. Hence, I feel moral and political responsibility because we failed to prevent this terrible practice. So I have filed for resignation to the president," Akhalaia said in the statement.
First Deputy Interior Minister, Eka Zguladze, is now an acting interior minister.
Zguladze, the acting interior minister, said in her televised statement late on September 20, that "there is no place for violence in Georgia" and vowed to secure safety of the citizens, "including during the elections."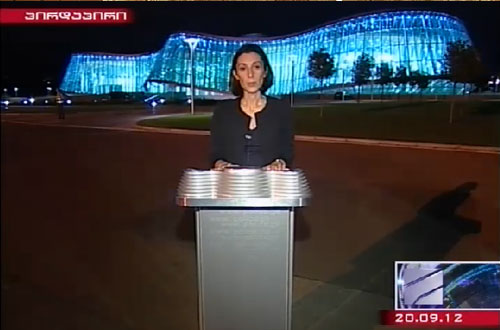 A grab from a televised statement made by an acting interior minister, Eka Zguladze, who has been the first deputy interior minister since 2006. In one of the leaked U.S. embassy cables Zguladze is described as "a tireless bureaucrat… sharp and sometimes slightly sharp-edged, knowledgeable and a fierce debater."
"Our people will vote in free and calm environment; This ministry will be a guarantor of that," Zguladze said.
News about Akhalaia's resignation was met with jubilation among the participants of the street protest rally, mostly students, who have been demanding Akhalaia's resignation. Some of them, however, have already called for the need "to bring Akhalaia before the justice" and others were saying "now it's time for Adeishvili", referring to the Justice Minister Zurab Adeishvili.
Akhalaia, who has been President Saakashvili one of the closest allies, became Interior Minister in early July after the major cabinet reshuffle when former Interior Minister Merabishvili became the PM. Before that Akhalaia served as the Defense Minister.
Bacho Akhalaia's father, Roland Akhalaia, who was chief prosecutor of Samegrelo region, is the ruling party's majoritarian MP candidate in Zugdidi single-mandate constituency in western Georgia. Akhalaia's brother, Data, is deputy defense minister since July. Before that Data Akhalaia led the Department of Constitutional Security (DCS) at the Interior Ministry.
In August, 2009 when Saakashvili promoted then 29-year-old Bacho Akhalaia as Defense Minister three months after a mutiny in Mukhrovani-based tank battalion, President cited need for "much stricter hand" in the defense sphere as one of the reasons behind his decision.
According to one leaked U.S. embassy cable, detailing possible reason behind Saakashvili's decision to appoint Akhalaia as defense minister, an influential figure in Saakashvili's administration, Giga Bokeria, who is now secretary of national security council, told then-U.S. ambassador to Georgia that "Akhalaia is 'Misha's guy', not 'Vano's guy'." Bokeria, according to that cable, "urged the United States not to view this appointment as MOIA [Ministry of Internal Affairs] moving in on MOD [Ministry of Defense] turf." Akhalaia "is viewed by Saakashvili as effective," reads the cable dated August 31, 2009.
Minister in charge of the prison system, Khatuna Kalmakhelidze, also had to resign after the graphic videos of inmates inhuman treatment surfaced; President Saakashvili replaced her by Public Defender Giorgi Tugushi, but the protests calling for Akhalaia's resignation continued for a second day on September 20.