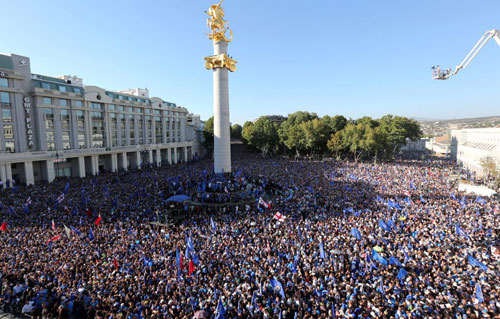 Georgian Dream campaign rally in Tbilisi, September 29. Photo: Georgian Dream press office
The Georgian Dream opposition coalition, led by Bidzina Ivanishvili, held huge simultaneous rallies in Tbilisi and Georgia's second-largest city of Kutaisi on September 29, wrapping up its major campaign events two days before the parliamentary elections.
Georgian Dream supporters gathered at four various locations in Tbilisi before marching towards the Freedom Square in the city center from where six-party coalition formally kicked off its campaign on May 27 with a large outdoor rally.
"We are standing together and preparing for an inevitable victory," Ivanishvili told the rally in Tbilisi. "People have already ruled its verdict and now it will be formalized on October 1."
"The country's fate is being decided in two days, on October 1," he said.
He said that "hours of Saakashvili's regime are numbered".
"Our people have stated to the world very loudly that it deserves to live in democratic state," said Ivanishvili and added by referring to a huge turnout at the rally: "Just look at this… Only Saakashvili and his government do not want to understand it; they do not want to believe it, because it is losing unrestricted power gained at the expense of humiliated and oppressed citizens."

In his speech, during which he referred to the prison abuse scandal for number of times, said that "Saakashvili's system should collapse."
"No one has doubts about it anymore. Neither the West will turn a blind eye on these illegal acts. This is an international scandal. It is unimaginable that the West will support those who have created this sadist system," Ivanishvili said.
He called for high voter turnout for several times in his speech and told the rally that not going to polling stations would amount to supporting the authorities.
In the end of his speech Ivanishvili thanked supporters and his family for backing him during the campaign and also thanked "one person", whom he did not specify, "who managed with his actions to unmask my opponent and I completely demonstrated to the entire world what kind of violent President we have." Later he specified that he meant himself.