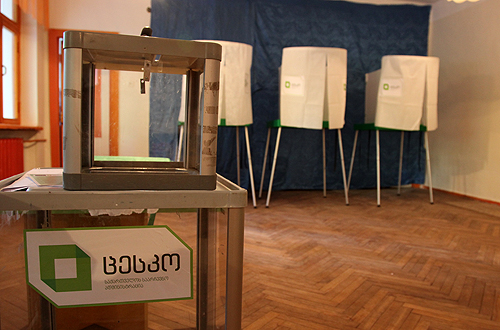 Ballot box and voting booths seen in one of the polling stations in Tbilisi. Photo: Guram Muradov/Civil.ge
Georgian voters will go to the polls on October 1 to elect 150-member Parliament for a four-year term.
One of the key issues that make these elections important is that Parliament, elected on October 1, will have to confirm one year later a new Prime Minister, whose powers will be significantly increased at the expense of presidency when new constitutional provisions go into effect after the presidential elections in October, 2013.
A political party or an election bloc, which will garner most of the votes in the October 1 elections, will have the right to nominate a prime ministerial candidate after the new constitution goes into force year later.
A prime ministerial candidate will require support of more than half of parliament members – that means at least 76 votes are needed for a candidate to become PM.
But before power shifts from President to PM in 2013, under the existing constitution, the newly elected Parliament will have to confirm PM. President Saakashvili will nominate a prime ministerial candidate who will require support of at least 76 MPs for confirmation.
The President has no right to dismiss Parliament within six months after its election, as well as six months before the presidential elections planned for October 2013.
Passing of a constitutional amendment requires support of at least 100 MPs; threshold will increase to 113 when the new constitutional provisions go into effect after the October, 2013 presidential elections.

The Parliament elected on October 1 will be based in new chamber built in Georgia's second largest city of Kutaisi.
The first session of the newly elected Parliament will be held within 20 days after the Central Election Commission (CEC) publishes final vote tally. CEC has to summarize final vote tally within 19 days after the elections and has to publish final vote tally within 5 days after it is summarized.
Election System
Georgia has a mixed system in which 73 lawmakers out of 150 are elected in 73 majoritarian, single-mandate constituencies and rest 77 seats are allocated proportionally under the party-list contest among political parties and election blocs, which clear 5% threshold.
It means that a voter has two votes – the first vote for electing a local representative of a respective single-mandate constituency to the Parliament and second vote is cast for a party list.

Majoritarian MPs
There are total of 73 single-mandate constituencies. A majoritarian MP candidate, who receives more votes than others, but not less than 30%, is declared an outright winner of the race.
A second round of the race will be held within two weeks if none of the candidate garners more than 30% of votes.
There is a wide disparity between the single-mandate constituencies with the smallest one having about 5,810 voters and the largest one as many as 162,732. International and local observers have long been recommending the Georgian authorities to secure equality of vote through establishing approximately equal sized single-mandate constituencies.
Proportional, Part-List
77 seats are up for grabs under the party-list, proportional race.
Number of seats allocated to each party/bloc, which clears 5% threshold, is calculated under the following formula: number of votes garnered by a party/bloc is multiplied by 77 and divided by an aggregate sum of votes garnered by all the parties and blocs.

If a party/bloc clears 5% threshold but it, under this formula, translates into having less than 6 MPs, this party/bloc will anyway be able to endorse 6 MP at the expense of taking seats from other parties having better results in elections. It means that clearing of 5% threshold will automatically give a party or a bloc opportunity to establish a faction within the Parliament, which requires having at least six lawmakers.
Although ruling United National Movement (UNM) party received in proportional, party-list race in 2008 elections 59.18% of votes, it took 79.3% of parliamentary seats at the expense of winning majoritarian races in 71 out of 75 single-mandate constituencies (number of constituencies decreased since then to 73).

Parties/Blocs
14 parties and two election blocs run in the October 1 parliamentary elections.
List of parties:
1. Free Georgia;
2. National-Democratic Party;
3. United National Movement;
4. For Fair Georgia;
5. People's Movement;
6. Freedom – Path of Zviad Gamsakhuridia;
7. Kartuli Dasi
8. New Rights;
9. People's Party;
10. Merab Kostava Society;
11. Future Georgia;
12. Workers' Council of Georgia;
13. Labor Party;
14. Union of Georgian Sportsmen;
List of blocs:
Christian-Democratic Union, which unites Christian-Democratic Movement and Georgia's European Democrats.
Georgian Dream – a coalition of six parties: Georgian Dream-Democratic Georgia; Republican Party; Our Georgia-Free Democrats; Conservative Party; National Forum and Industry Will Save Georgia;
Election Administration
There is a three-tiered structure of election administration – precinct, district and central election commissions.
Central Election Commission (CEC) consists of 13 members including its chairman, Zurab Kharatishvili, who has served on the post since January, 2010.
Seven members of CEC are appointed by political parties – the ruling UNM party; Christian-Democratic Movement (CDM); a small party European Democrats; little-known Christian-Democratic People's Party (these three latter parties ran jointly in a bloc during the 2010 local elections under CDM's umbrella and were able to gain seats in CEC); Labor Party; Industrialist Party and Conservative Party. Industrialist Party and Conservative Party are now part of Bidzina Ivanishvili-led opposition coalition Georgian Dream. Six remaining CEC members are formally non-partisan representatives, who have been nominated by the President and approved by the Parliament.
Similar to CEC, district and precinct commissions consist of 13 members each.
A total of 73 district election commissions are functioning throughout the country.
Number of precinct election commissions is 3,648, plus 45 polling stations are opened abroad and there are 71 'special polling stations'.
Election of the Adjara Supreme Council
Simultaneously with parliamentary elections, voters in the Autonomous Republic of Adjara will also elect 21-member local legislative body, Supreme Council, on October 1.
Like the national Parliament, Adjara's Supreme Council is also elected for a four-year term based on mixed system with six out of 21 members elected through majoritarian contest in the Autonomous Republic's single-mandate constituencies and remaining 15 seats are distributed among the parties or blocs which will clear 5% threshold in proportional, party-list contest.
Seven parties and blocs compete for the seats in the Adjara's Supreme Council: UNM; Georgian Dream, Christian Democratic Union; Labor Party; New Rights; Free Georgia and Movement for Fair Georgia.