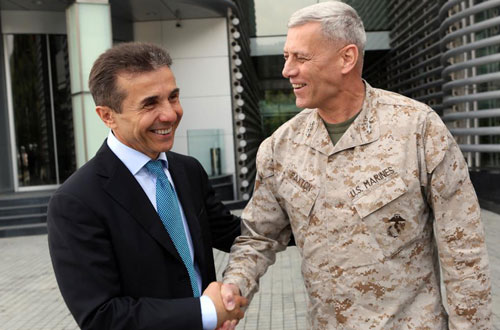 Bidzina Ivanishvili and Commander of the U.S. Marine Corps in Europe, Lt Gen John M. Paxton, outside Ivanishvili's compound in Tbilisi. Photo: Ivanishvili's press office.
Bidzina Ivanishvili, whose Georgian Dream coalition won the parliamentary elections, said Georgia, which has two battalions stationed in the Helmand province of Afghanistan, would "definitely continue" cooperation with the U.S. over Afghanistan.
He made the remarks on October 5 after meeting with commander of the U.S. Marine Corps in Europe, Lt Gen John M. Paxton, who is visiting Georgia.
"Georgia has been a very valuable and trusted ally for many years; we work very closely together in Afghanistan, particularly in Helmand province and we have enjoyed a great relationship trying to develop NCO leadership, officer skills and work on enhanced security cooperation," Lt Gen Paxton said after the meeting.

"We are here to congratulate Mr. Ivanishvili and to wish him a smooth transition of power. We are here to just reaffirm that the United States stands by Georgia," he said and added he was looking forward not only to working relationship in Afghanistan but also to continued good relations in years ahead.
"This was my first meeting with the U.S. military, who have provided a huge assistance to establishing of the Georgian army and to its reforms in line with the NATO standards," Ivanishvili said. "I knew it, but I was very glad to hear that Georgian [troops] have special importance in the NATO forces [in Afghanistan] and that together with the U.S. [troops] are [performing combat duties] in difficult areas"
"Of course we should do everything possible in order to [continue] our partnership with the United States in Afghanistan and in such hotspots," Ivanishvili said and added that Georgia was playing "a role of a real junior friend" to the United States and "we will definitely continue cooperation in the future too."
The Commander of U.S. Marine Corps in Europe met on October 5 with Chief of Joint Staff of the Georgian armed force Lt Gen Devi Chankotadze.
"The sides focused on an enhanced military cooperation between the countries. Chief of JS underlined that Georgia will continue cooperation with the United States in the same format and stressed the role the U.S. plays in modernization of the Georgian army and in developing interoperability with NATO," the Georgian Ministry of Defense said. "Lt Gen Devi Chankotadze affirmed that Georgia stands ready to continue cooperation with NATO and the United States in the post-ISAF period too."
Also on October 5, the Commander of U.S. Marine Corps in Europe visited National Training Centre, Krtsanisi, outside Tbilisi where he attended training of the Georgian servicemen, who are gearing up for the Afghan deployment.