Ivanishvili wants heads of c.bank, state audit office to be replaced;
He will also seek for replacement of chief prosecutor;
Nominee for Interior Minister: 'de- politicization of the ministry is priority';
Nominee for Interior Minister: 'zero tolerance towards crime';
Usupashvili to be elected as new parliamentary chairman;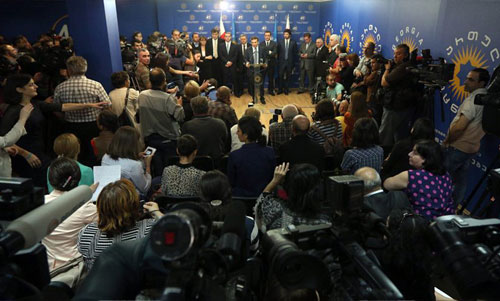 Bidzina Ivanishvili announces his cabinet in a conference room in headquarters of his Georgian Dream coalition, packed with journalists, on October 8. Georgian Dream press office photo
Bidzina Ivanishvili, whose Georgian Dream coalition will form the government after the election victory, announced nominees for 13 out of 20 ministerial posts in the cabinet on October 8.
The ministerial nominees announced by Ivanishvili are as follows:
Minister of Defense and Vice Premier – Irakli Alasania, leader of OGFD party;
Minister of Regional Development and Infrastructure and Vice Premier – Kakha Kaladze (from Ivanishvili's GDDG party);
Interior Minister – Irakli Garibashvili (GDDG);
Minister of Justice – Tea Tsulukiani (OGFD);
Minister of Foreign Affairs – Maia Panjikidze (GDDG);
Ministry of Labor, Health and Social Affairs – Amiran Gamkrelidze (he held this post from late 2001 till January, 2004);
Minister of Agriculture – Davit Kirvalidze (he held this post in 2001-2003);
Minister in charge of penitentiary system – Sozar Subari (GDDG);
Minister of Culture and Monument Protection – Guram Odisharia (GDDG);
Minister of Sports and Youth Affairs – Levan Kipiani (GDDG);
State Minister for European and Euro-Atlantic Integration – Alexi Petriashvili (OGFD);
State Minister for Reintegration – Paata Zakareishvili (Republican Party);
State Minister on the Diaspora Issues – Kote Surguladze (OGFD);
Other ministerial nominees have yet to be named; among them are Education Minister; Minister of Finance; Minister in charge of IDPs issues; Minister of Environmental Protection; Minister of Energy and Natural Resources; Minister of Economic and Sustainable Development; State Minister for Employment (this latter post is likely to be scrapped).
Also on October 8 Ivanishvili announced that leader of Republican Party, Davit Usupashvili, would be the Parliamentary Chairman.
The new cabinet, expected to be led by Ivanishvili, formally has to be submitted to the newly elected Parliament for confirmation by the President.
Of those 13 ministerial posts out of total 20, which Ivanishvili announced on October 8, six will go to representatives from his GDDG party; four will be taken by OGFD members and one by a Republican Party member; two represent none of the political parties.
Most of the ministerial nominees are more or less familiar for the Georgian public with most of them having an experience of either being in politics or in public service and some in diplomatic service.
Among the exceptions is incoming Interior Minister, 30-year-old Irakli Garibashvili.
Garibashvili, who is regarded to be Ivanishvili's right-hand man, studied international relations and law at the Tbilisi State University, before graduating University of Paris-I, Panthéon-Sorbonne. Garibashvili has worked with Ivanishvili for last eight years and headed the billionaire's charitable foundation Cartu before going into politics together with Ivanishvili late last year. He is now an elected MP in the new Parliament, but will have to leave the legislative body after he is confirmed as cabinet member.
After he was named as the Interior Minister, Garibashvili listed the ministry's "de-politicization" and "zero tolerance towards crime" among his priorities.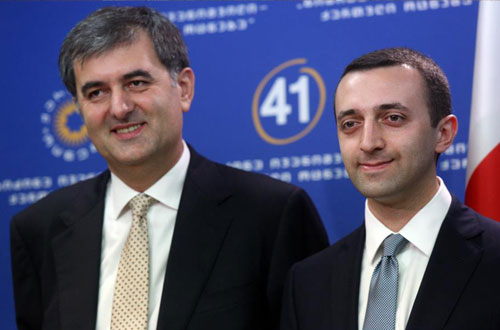 Irakli Garibashvili (right), incoming interior minister, and Sozar Subari (left), incoming minister for prisons, seen during a presentation of part of Bidzina Ivanishvili's cabinet on October 8. Georgian Dream's press office photo
"In the first instance, politics will be distanced from the Interior Ministry," Garibashvili told Civil.ge on October 8. "Policy of the zero tolerance [towards the crime] will not be changed – there will be no place for crime in Georgia."
"The system will be completely transparent," he continued. "I will personally be a guarantor that there will be no political persecutions in the police… Those who have committed unforgivable crimes before the Georgian people, they should face justice in independent courts."
He sidestepped to give a direct answer whether he would seek to separate various security structures from the Interior Ministry. Currently the ministry subordinates broad range of agencies from patrol police and security forces to coast guard. Garibashvili, however, said that after becoming the Interior Minister he would table ministry's reform plan.

Tea Tsulukiani, 37, who is set to become the new Justice Minister, replacing Zurab Adeishvili, is in politics since early 2010 when she joined Irakli Alasania-led Our Georgia-Free Democrats (OGFD) party, where she is a deputy chairperson. She studied international relations and law at the Tbilisi State University in 1992-1997 and went to the École Nationale d'Administration (ENA), France's elite graduate school for civil servants, in 1998-2000. After graduating ENA she started working as a lawyer at the Strasbourg-based European Court of Human Rights, which she left in 2010 when Tsulukiani joined OGFD.

Retired footballer Kakha Kaladze, who is set to become minister for infrastructure and regional development, as well as deputy PM, is a newcomer in the politics. Kaladze, who was the captain of the Georgian national team until December 2011 before joining Ivanishvili's public movement, won the Champions League on two occasions with AC Milan. He was elected in the new Parliament after winning majoritarian race in his native Samtredia single-mandate constituency in western Georgia.
Among the newcomers in the incoming government is Levan Kipiani, who is set to become the minister for sports and youth affairs; son of a prominent Georgian footballer, Kipiani was mainly known to the public for his criticism of the Georgian football association. A writer Guram Odisharia, who will take the post of Culture Minister, will also be a newcomer in the politics and public service.
Maia Panjikidze, nominee for the Foreign Minister's post, is the Georgian Dream coalition's spokesperson and member of the Ivanishvili's party. She served as Georgia's ambassador to the Netherlands in 2007-2010. After being replaced on the post of ambassador, she alleged that she was dismissed because of being a relative of Irakli Alasania, who at the time was in opposition. Panjikidze is a sister of wife of Irakli Alasania; the latter will be the Defense Minister and deputy PM in Ivanishvili's cabinet.
Panjikidze said that Georgia's Euro-Atlantic integration would remain the foreign policy priority. She also said that Ivanishvili's incoming government would try to normalize relations with Russia.
"Restoration of diplomatic relations with Russia in the condition when Russia has its embassies in Sokhumi and Tskhinvali is a difficult issue; but we should work over this issue," Panjikidze said. "It will be impossible to mend relations with Russia in few days taking into consideration that it has occupied 20% of Georgian territories."
She also said that Georgia would "never" join the Commonwealth of Independent States, which Georgia quit after the August, 2008 war, and added that Euro-Atlantic integration would be the priority, "which is the choice of the Georgian people."
Nominee for the minister in charge of penitentiary system, Sozar Subari, was public defender in 2004-2009 and will replace on the ministerial post also a former public defender Giorgi Tugushi; the latter was put in charge of prison systems by President Saakashvili after the prison abuse scandal less than two weeks before the October 1 parliamentary elections. After his term in office as public defender expired, Subari was a chairman of now defunct Georgian Party, which was co-founded by ex-defense minister Irakli Okruashvili.
Alexi Petriashvili, who is set to become State Minister for Euro-Atlantic Integration, served as Georgia's ambassador to Turkmenistan before joining Alasania's OGFD party in early 2009.
Also a former diplomat and a member of OGFD party, Kote Surguladze will take the post of the state minister on diaspora issues. Surguladze is Georgia's former consular to the UK; during the pre-election campaign he was in charge of attracting support for the Georgian Dream among the Georgian expatriates.
A long-time activist with Republican Party and a frequent commentator on conflict-related issues, Paata Zakareishvili, is set to become the state minister for reintegration in charge of Abkhaz and South Ossetian conflict resolution issues. Zakareishvili has been a fierce critic of the present authorities' policies towards Sokhumi and Tskhinvali.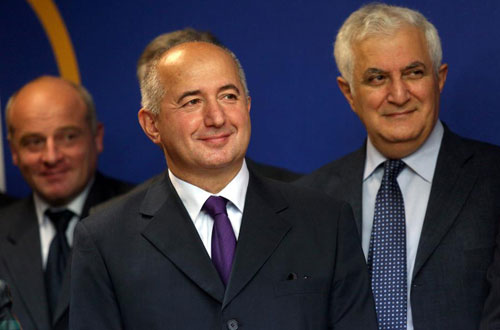 From left to right: incoming agriculture minister Davit Gamkrelidze; incoming state minister for reintegration Paata Zakareishvili; incoming healthcare minister Amiran Gamkrelidze. Georgian Dream press office photo
Two members of the incoming government served as ministers during Eduard Shevardnadze's presidency. Amiran Gamkrelidze held the post of Healthcare Minister from late 2001 till January, 2004 – he is now set to take the same post; Davit Kirvalidze, who was Agriculture Minister in early 2000s, will take the same post in the incoming government. Kirvalidze is son-in-law of an elected MP from Republican Party, Vakhtang Khmaladze, who is set to become a chairman of the parliamentary committee for legal affairs.
Ivanishvili also said that he would seek replacement of central bank's president and head of the state audit agency.
Replacement of the central bank president is within presidential authority and head of the state audit agency is being elected for five-year term by the Parliament. New head of the state audit agency, a former lawmaker from President Saakashvili's UNM party, was elected in July, 2012.
Ivanishvili said that he wants head of Cartu Bank, Nodar Javakhishvili, to become the president of central bank and Revaz Shavishvili to lead the state audit agency. Javakhishvili was President of National Bank of Georgia in 1993-98 and Shavishvili led state audit service in 1992-2000; both are from the National Forum party, part of Georgian Dream coalition. He said that he was aware of difficulties that may face the process of replacement of current central bank president and head of the state audit agency, but added that his coalition would pursue its efforts solely within the legal framework.
Ivanishvili also said that he would seek for replacement of chief prosecutor Murtaz Zodelava with Archil Kbilashvili, who is a member of GDDG party. Kbilashvili is a long-time lawyer, who represented Ivanishvili in number of legal proceedings including over the billionaire's citizenship case. Kbilashvili is now an elected MP, who has won a majoritarian MP seat in Bagdati single-mandate constituency. According to the law, it is in presidential powers to appoint or dismiss chief prosecutor with a recommendation from Justice Minister.
Ivanishvili also said on October 8 that he was planning structural changes within the government, citing that "currently there are too many ministries". He also said that incoming ministers would select their deputies and then agree nominations with the coalition leadership.