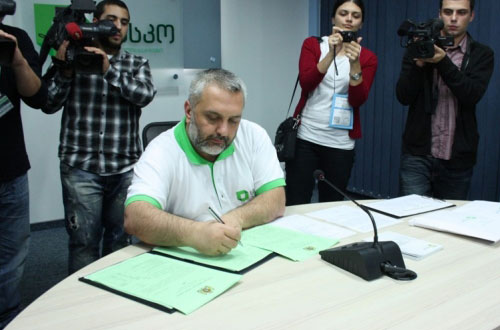 Chairman of the Central Election Commission (CEC), Zurab Kharatishvili, signs final summary protocol of the October 1 parliamentary elections' results on October 19. CEC photo.
Eighteen days after the parliamentary elections, the Central Election Commission (CEC) approved final vote tally on October 19, confirming that Georgian Dream will have 85 seats and UNM 65 seats in the new Parliament, which is scheduled to be convened on Sunday.
2,215,661 voters turned out at the polling stations, that is 61.31% of total number of voters who were included in the voters list. 62,874 ballots were annulled, according to the final vote tally.
Election result is as follows:
Georgian Dream – 1,181,862 votes (54.97%);
United National Movement – 867,432 votes (40.34%);
No other party cleared the 5% threshold, required for endorsing candidates to the Parliament.
Christian Democratic Movement received 43,805 votes (2.04%); Labor Party – 26,621 votes (1.24%).
Aggregate votes garnered by other twelve parties, which were running in the elections, is about 1.4%.
Under the party-list, proportional system Georgian Dream won 44 seats; UNM – 33 seats.
The Georgian Dream also won 41 out of 73 majoritarian seats in single-mandate constituencies. UNM majoritarian MP candidates won in 32 single-mandate constituencies.
More detailed results of elections are available on this interactive map.
According to Georgia's electoral rules, a majoritarian MP candidate, who receives more votes than others, but not less than 30%, is declared an outright winner of the race. A second round of the race should be held if none of the candidate garners more than 30% of votes.
No second round was required in any of the single-mandate constituency in these elections.
Out of 41 single-mandate constituencies taken by Georgian Dream majoritarian MP candidates, in 35 cases they won the race by receiving more than 50% of votes. There are only six single-mandate constituencies which have been won by GD candidates with less than half of the ballots cast; these are: Signagi; Telavi; Gori; Kharagauli; Bagdati and Mestia.
In case of UNM, its majoritarian MP candidates won in total of 32 single-mandate constituencies; in six of them UNM candidates won the race by receiving less than 50% of votes (Dedoplistskaro, Tetritskaro, Keda, Terjola, Ambrolauri and Khoni).
Results of majoritarian race mostly follow the pattern of party-list race results in various municipalities.
There are, however, four exceptions.
In Dedoplistskaro, Tetritskaro and Ambrolauri constituencies GD majoritarian MP candidates lost the race to UNM candidates, but in the same municipalities GD garnered slightly more votes under the party-list system than UNM. There was an opposite situation in Tkibuli, where GD majoritarian MP candidate won the race, but the coalition received there slightly less votes than UNM in the party-list race.
GD won decisively both in majoritarian and popular votes in major urban centers like Tbilisi (which is divided into ten single-mandate constituencies), Kutaisi, Rustavi and Batumi.