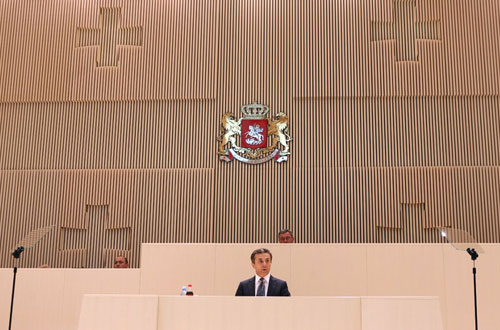 Bidzina Ivanishvili addresses lawmakers before he was confirmed as Georgia's Prime Minister during parliamentary session in Kutaisi, October 25. Photo: Ivanishvili's press office.
Parliament confirmed on October 25 Bidzina Ivanishvili as Georgia's Prime Minister with 88 votes to 54.
With the same vote the Parliament has also confirmed Ivanishvili's cabinet and its program.
Minister of Finance – Nodar Khaduri of Ivanishvili's GDDG party;
Minister of Economy and Sustainable Development – Giorgi Kvirikashvili;
Minister for Labor, Healthcare and Social Affairs – Davit Sergeenko
Minister for Infrastructure and Regional Development – Davit Narmania;
Energy Minister – Kakha Kaladze (GDDG)
Interior Minister – Irakli Garibashvili (GDDG);
Minister of Justice – Tea Tsulukiani (OGFD);
Minister of Foreign Affairs – Maia Panjikidze (GDDG);
Education Minister – Giorgi Margvelashvili;
Minister in charge of IDPs issues – Davit Darakhvelidze of National Forum;
Minister of Environmental Protection – Khatuna Gogoladze;
Minister of Defense and Vice Premier – Irakli Alasania, leader of Our Georgia-Free Democrats (OGFD) party;
Minister of Agriculture – Davit Kirvalidze (he held this post in 2001-2003);
Minister in charge of penitentiary system – Sozar Subari (GDDG);
Minister of Culture and Monument Protection – Guram Odisharia (GDDG);
Minister of Sports and Youth Affairs – Levan Kipiani (GDDG);
State Minister for European and Euro-Atlantic Integration – Alexi Petriashvili (OGFD);
State Minister for Reintegration – Paata Zakareishvili (Republican Party);
State Minister on the Diaspora Issues – Kote Surguladze (OGFD);
State Minister for Employment – Kakha Sakandelidze; this post, which was introduced ahead of elections, now seems to be a formality as Ivanishvili plans to scrap this portfolio in the cabinet.
Ivanishvili's GDDG party has seven seats, including Ivanishvili himself as PM, in the 21-member cabinet; total number of ministerial portfolios will go down after planned structural changes within the government. Along with the state ministry of employment, the ministry for infrastructure and regional development will also be abolished; the regional development service will be under the direct subordination of the PM and infrastructure development will go under the ministry of economy.
Irakli Alasania's OGFD party is represented in the new cabinet by four members; Republican Party and National Forum have one minister each. Other ministers are not members of any party.
The oldest cabinet member is a writer Guram Odisharia, 61, minister of culture and the youngest one is the interior minister Irakli Garibashvili who is 30 years old.
There are three female ministers in the new cabinet.
A senior lawmaker from the United National Movement parliamentary opposition party, Giorgi Gabashvili, said during the debates at the parliamentary session that now it would be fair to take "wait and see approach".
"This is the team, which has issued lots of promises… and we cannot predict whatsoever how they will act, because in recent days we've been hearing from them differing opinions about their planned policies," he said.
"We should not be surprised by the fact that the parliamentary majority is now acting as a collective prosecutor, censuring the past and trying to portray last eight years in completely dark colors when as if nothing has been done… Over the recent years some of our colleagues have turned into a professional slanderer and we should not be surprised that now the parliamentary majority will continue this slander campaign; many [of Georgian Dream lawmakers] came here [in the Parliament] just for that reason and not for serving the people… We see that there is no positive program," MP Gabashvili said.
"You are now in the government; you are no longer at a protest rally and you can no longer continue slanders and mudslinging; if you have something – you have prosecutor's office and the police and act," he said.
A lawmaker from the Georgian Dream parliamentary majority group, Zakaria Kutsnashvili, said that the coalition, which had come into power, was not seeking revenge, but justice.
"Where is the line between revenge and seeking justice? Revenge is what you [referring to UNM] where doing: ambushing and beating people and seeking justice is to refer case of Roland Akhalaia [UNM lawmaker and former chief prosecutor of Samegrelo region] to the court and let unbiased court define whether he was making illegal orders or not," MP Kutsnashvili said.
"Rules of democracy are unfortunately very strict and we have to tolerate that one part of this chamber is occupied by the people [referring to UNM lawmakers], who were ideologists of illegality and violence, a group of people who were signing any illegal order and unfair laws and group of people, which has buried our justice system," he said.