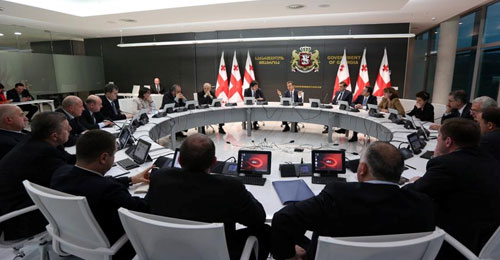 New PM Bidzina Ivanishvili presides over first sitting of his cabinet in government building, next to new Parliament chamber in Kutaisi, on October 25. Photo: Ivanishvili's press office.
New Prime Minister Bidzina Ivanishvili said his government "assumed a heavy burden", but vowed that he would deliver more than he had promised during his pre-election campaign.
He said that one year and three weeks after announcing about entering the politics, he has accomplished the first stage by becoming the PM.
"We have taken power," Ivanishvili told journalists shortly after the Parliament confirmed him as the Prime Minister on October 25.
"The stage of delivering on our promises is now starting," he continued. "We have assumed a heavy burden. We have given lots of promises, but I assure the Georgian population that we will do much more [than promised]."
He said that the third stage would start for him one year and a half from now when he would quit the government and move into the civil society sector; he said that after quitting the government he would dedicate "rest of my life to development of the Georgian civil society."
Asked on Mikheil Saakashvili, PM Ivanishvili said that although he was still formally holding significant powers as the President, he had "no real powers to create problems." "Although anything can be expected from him because of his unbalanced tamper," Ivanishvili added.

Asked about the parliamentary opposition, represented by President Saakashvili's UNM party, Ivanishvili told journalists that he was disappointed with, what he called, UNM's "unconstructive" stance.
"The way how the opposition acted today and yesterday causes my disappointment; I was expecting much more from them," he said referring to his October 24 meeting with UNM lawmakers and to October 25 confirmation hearing in the Parliament.
"They fail to be constructive," Ivanishvili said.
He said that during the debates he was not only listening carefully to UNM lawmakers' remarks, but also watching very closely their gestures.
"It is very regretful that there are… few people in the opposition today, who can work constructively for the country's wellbeing," he said.
"They still remain in the same old ideology, thinking that they can make it through lies," Ivanishvili said. "I wish the opposition to oppose us constructively that is so important for us and necessary for the country."
He said that he would also like to see political parties, which have no representatives in the Parliament, to get stronger.