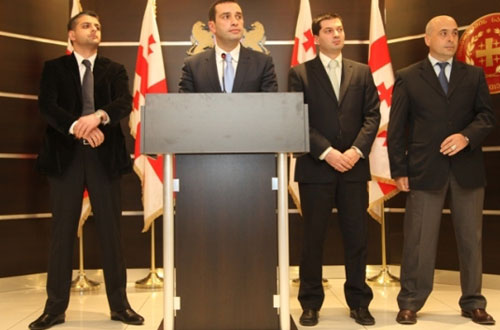 From left to right: Levan Dolidze, First Deputy Defense Minister; Irakli Alasania, Defense Minister; Alexander Burchuladze, Deputy Defense Minister and Irakli Gegechkori, Deputy Defense Minister. MoD photo.
Georgia's new Defense Minister, Irakli Alasania, named three of his new deputies on October 31.
Levan Dolidze, who has been an executive director of the Levan Mikeladze Foundation, became the First Deputy Defense Minister. He is a brother of Victor Dolidze, a lawmaker from the Georgian Dream coalition, who chairs parliamentary committee for European integration issues; MP Dolidze is a member of Our Georgia-Free Democrats, party founded by Alasania.
Alasania said that Levan Dolidze would be in charge of reforms and measures to increase civilian control on military; he will also be MoD's parliamentary secretary.
Alexander Burchuladze has become deputy defense minister in charge of financial issues; Burchuladze is a founder of a Tbilisi-based management consulting firm, Innova, which he owned up until October 29, 2012. Burchuladze was an advisor to Georgian Public Broadcaster's general director in 2010-2011.
Irakli Gegechkori, who has an experience of serving for the state security ministry and intelligence service, is the third deputy defense minister. He was deputy chairman of the Tbilisi-based Abkhaz government in exile in 2006-2007.
Alasania said on October 31, that consultations were ongoing with the President's office about replacement of Chief of Joint Staff of the Armed Forces.
After the parliamentary elections and before the new government took office, President Saakashvili appointed Brigadier-General Giorgi Kalandadze as new Chief of Joint Staff of the Armed Forces, replacing Devi Chankotadze.
"Consultations will be over in the next few days and we will have new Chief of Joint Staff," Alasania said.