PM: Saakashvili should keep the post, but with less powers;
PM indicates he wants to speed up going into force of new constitution;
'Claiming that Akhalaia is a political prisoner is an insult of the public';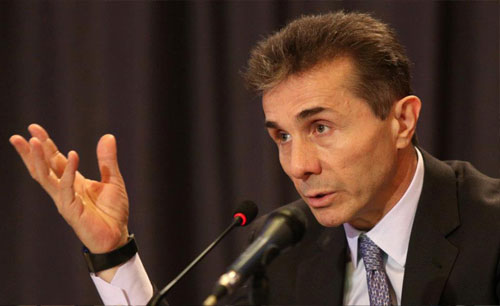 PM Bidzina Ivanishvili during a two and a half hour press conference on November 22. Photo: PM's press office.
PM Bidzina Ivanishvili said that he would not insist on President Saakashvili's impeachment, but his Georgian Dream parliamentary majority might introduce constitutional changes that would significantly cut presidential powers.
Georgia's new constitution, which was passed in 2010 and which will significantly increase PM's powers at the expense of those of the President, will go into force after the presidential elections, set for October, 2013.

Speaking at a lengthy press conference on November 22, PM Ivanishvili said that after the parliamentary elections and its outcome "it will be logical" if the new provisions of the constitution go into effect "earlier" than scheduled.
Ivanishvili's Georgian Dream coalition now has 83 lawmakers in the Parliament; six MPs are former members of President Saakashvili's United National Movement (UNM) party and UNM has 59 seats. At least 100 votes are needed to pass constitutional changes.
"From my point of view votes will be even more than required for these amendments to be [approved]," PM Ivanishvili told journalists without going into details.
He said that the Georgian Dream would "try to convince both the Georgian society and international" community in the need for such changes in the constitution.
Ivanishvili said that any talk of President Saakashvili's impeachment had "a very negative reaction from the international community."
"I understand it very well, so after my meeting with the President I said that we respect our culture, our society and the state, so we will treat our opponents as our state and culture deserve it and not like our opponents deserve it. Therefore, politically the issue of impeachment will not be raised by me and by our party," he said.
But he also added: "From the legal point of view processes are ongoing and no one should be surprised if this process arrives. But putting of this issue will not happen for the reason I have already said – we should respect our country and our culture and we should manage to show democratic face."
Ivanishvili also said that Mikheil Saakashvili should "keep" his presidential post, but "with new rights and responsibilities."
He said that although there were "absolutely logical question marks" about the date of presidential election, it should be held in October, 2013 as set by the constitution.
Since the start of uneasy cohabitation between PM Ivanishvili and President Saakashvili, debates re-emerged about the controversy involving the date of presidential election.
The current constitution says that a president is elected for a five-year term. Mikheil Saakashvili was re-elected for a five year term in a snap presidential election in January, 2008, which was called after he resigned following street protests, which came to a violent end in November, 2007 – about thirteen months before expiration of his first presidential term. The same constitution sets October, 2013 as the date for the next presidential election, extending President Saakashvili's final term in office by about nine months.
"The President has five-year term and of course question persists why did they [referring to UNM, which was the ruling party for almost nine years] set October as the election's date… But let's not raise this issue any more, because it may cause misunderstanding from the part of the international community," Ivanishvili said.
Asked if the recent arrests of former and current senior officials would also lead to opening criminal investigation against others, including President Saakashvili, Ivanishvili responded: "Carrying out indefinite number of arrests and the arrest of the President is not my desire." He, however, also said that he was not meddling in the work of the prosecutor's office and it was not up to him to decide who should face prosecution.
Ivanishvili said that UNM was "insulting" the Georgian public by claiming that arrested former defense and interior minister Bacho Akhalaia was a political prisoner; he said such claims were "violence on our consciousness."
He also said that "people are queuing up to the prosecutor's office" to file complaints about alleged wrongdoings committed by the previous authorities.
Ivanishvili said that "these queues wont' get smaller" in the condition when UNM kept on insisting that the recent arrests were politically motivated.
"Let them [UNM] at least change their rhetoric and stop lying in order to make those queues at the prosecutor's office smaller," the Prime Minister said.
He also said that he had discussed with Parliamentary Chairman Davit Usupashvili a possible amnesty for low and mid-level officials who have committed wrongdoings; he, however, also added that this possible amnesty would not apply to "high-profile cases, which should definitely be investigated".
Ivanishvili said that as part of political cohabitation process, a working group which was set up from the both sides – UNM and Georgian Dream during the government handover, was still holding meetings.
He, however, said this working group "cannot serve as a major mechanism for our cooperation."
He said that President Saakashvili's close ally Giga Bokeria, the Secretary of National Security Council, who is in this working group, was trying "to draw some red lines about how one should treat another".
"Not this working group, but justice and laws will be basis for our cooperation. We will only cooperate with them in frames of law and not in a way as they [UNM] want – not to touch criminals," Ivanishvili said.
"Coordination of some minor issues in order to clarify misunderstandings is possible within this working group, which gathers once in a week or once in two weeks, but it's not for making agreements with Bokeria about whom the prosecutor's office should or should not arrest," the Prime Minister said.