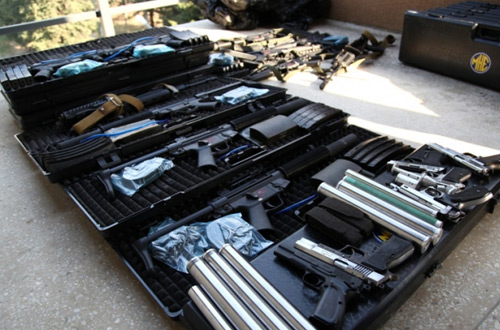 MoD's photo of some of those weapons, which it said was uncovered in an apartment in Tbilisi on December 3.
The Ministry of Defense said on Monday "large quantities" of unregistered weapons had been uncovered in an apartment in Tbilisi.
Vako Avaliani, an advisor to the Minister of Defense, said that the military police, together with Tbilisi's Vake-Saburtalo district police, found various types of firearm and silencers on December 3.
"We have been informed about this arms cache this morning when an owner of the home, where these weapons were stored, reported about it to the Ministry of Defense," Avaliani said.
Among uncovered firearms, according to MoD, are various types of Heckler & Koch submachine guns.
Total quantity of uncovered firearms is approximately 100, said head of the military police Kakha Chikhradze.
MoD released a video, showing military police officers taking weapons down from what seems to be an attic of a home.

MoD declined to specify the location of the apartment where the weapons were stored, as well as other details, citing ongoing investigation.