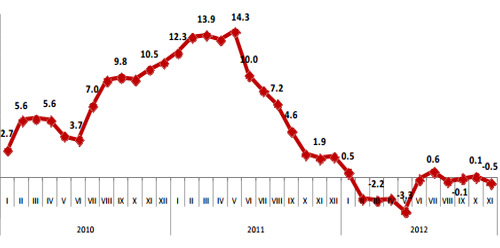 Annual inflation between January, 2010 and November, 2012. Source: Geostat
Georgia's annual inflation continued to hover around zero for sixth consecutive month in November, according to figures released by the state statistics office Geostat on Monday.
Annual inflation rate was again pushed into negative territory in November to -0.5%, following a 0.1% increase in October and 0.1% deflation in September.
The Georgian central bank cut its key rate by 25 basis points to 5.5% in November, the lowest rate in two and a half years.
Food prices declined 1.8% in November year-on-year and prices on clothing and footwear dipped by 2.5%. Prices in hotels and restaurants sector and healthcare services increased 5% and 2.5%, respectively y/y in November.
There was a 16% y/y increase in prices for services in out-patient clinics in November. Transportation prices rose 0.5%, according to Geostat.
After picking up to 14.3% in May, 2011, annual inflation started going down, dropping to 2% by the end of 2011 and falling below zero in early 2012 and then to -3.3% in May.