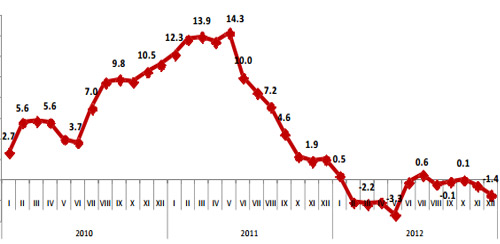 Annual inflation between January, 2010 and December, 2012. Source: Geostat
Annual inflation was a negative 1.4% in December, further down from -0.5 in November, according to figures released on Thursday by the Georgian state statistics office Geostat.
Prices on food and non-alcoholic beverages were down by 3.6% y/y in December; there was a 3.6% decline in prices in recreation and culture and prices for clothing, communication and transportation dipped by 3.2%, 0.5% and 0.1%, respectively.
Prices for hotels and restaurants increased 3.6% y/y in December and prices for healthcare services went up by 2.8% in the same period, according to Geostat.
The National Bank of Georgia (NBG) further reduced its key rate by 25 basis points to 5.25% in December, the lowest rate since May, 2010.
NBG said on December 19 that annual inflation in 2013 would remain below the target of 6%.
"The preliminary economic activity indicators point at the weakening of the demand in November, pushing the price level down," NBG said on December 19. "Despite high levels of liquidity and capital in the banking sector, credit activity is still modest, due to low demand for loans."
NBG cited "low growth rate" of foreign remittances as one of the reasons causing weakening of the demand. USD 110.5 million was transferred from abroad into Georgia in November, which was a 6.1% y/y increase.