Saakashvili: Governors are in forefront of struggle for preventing Georgia from sliding back into "corrupt past"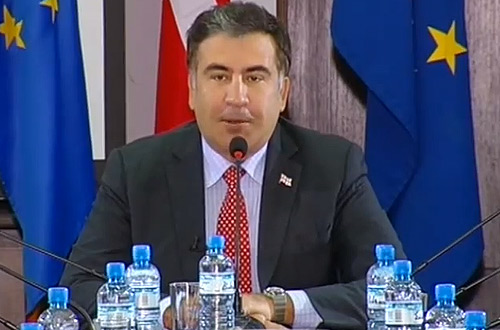 Screengrab from video footage showing President Saakashvili addressing officials of local self-governance in the town of Zugdidi while presenting new governor of Samegrelo region on January 10.
President Saakashvili appointed a former head of Interior Ministry's internal investigations unit, Tengiz Gunava, as new governor of Samegrelo-Zemo Svaneti region in western Georgia.
Gunava, who in the past was chief of police in Samegrelo region, came into public attention in mid-November, 2012 when he was arrested on charges related to illegal possession of arms and drug. Gunava, whom the court released on bail, said charges were fabricated and accused the police of planting weapon; in late December the Interior Ministry said it sacked five of its employees in connection to Gunava's arrest.
But later in November Gunava was again arrested and charged into a separate case involving alleged misappropriation of state funds when he served as the head of Interior Ministry's internal investigations unit earlier in 2012; Gunava was again released on bail by the court.
In separate case Prosecutor's Office has also charged Gunava with exceeding official powers with use of firearm and inflicting bodily injuries; prosecutors claim that in March, 2012, when Gunava was police chief in Samegrelo region, he shot and lightly wounded his driver and a local police officer.
"You know about the problems he [Gunava] was facing," President Saakashvili said on January 10 while presenting new governor to officials from the local self-governance in the town of Zugdidi.
"In the country where the government releases [from jail] Russian spies… as 'political prisoners' and 'heroes', of course real war heroes have problems," said Saakashvili, referring to a planned amnesty, which is set to proceed after the Parliament overturned presidential veto.
If the President refuses again to sign the bill on amnesty into the law before the end of January 11, the Parliamentary Chairman Davit Usupashvili will have the right to sign it into the law, authorizing release of at least 3,000 inmates including those 190 persons who have been recognized by the Parliament as political prisoners, among them several inmates who were convicted for charges related to espionage in favor of Russia.
Gunava replaced on the post of Samegrelo governor Zaza Gorozia, whom President Saakashvili appointed on this post in mid-October, 2012.
Saakashvili described Gunava as "real patriot and very honest citizen", saying that Gunava acted as "real hero" while serving as police chief in Samegrelo region during the August, 2008 war with Russia.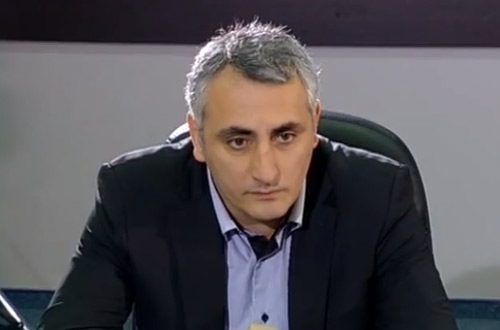 New governor of Samegrelo-Zemo Svaneti region, Tengiz Gunava, at a meeting with officials from the local self-governance in the town of Zugdidi attended by President Saakashvili on January 10.
In his remarks during Gunava's nomination as new government, President Saakashvili again slammed the new government for, as he put it, "attempts of restoring the past". He claimed that the government was putting into various public offices corrupt former officials who served during Eduard Shevardnadze's presidency.
Saakashvili also claimed that "unfortunately first cases of bribe-taking have been detected by patrol policemen."
He said that while provincial governors should be trying to cooperate constructively with the central government, they also should serve as defenders of those "gains" achieved during the rule of his UNM party.
"Governors are those people who are in the forefront of battle line for preventing restoration of corrupt and criminal past in Georgia," Saakashvili said.
"If previously a question was asked whether Georgia would develop at faster pace or not, now the question is: will everything that has been [gained] survive or not," Saakashvili said.
"I want it to be a temporary," he continued. "I want this rendezvous with the past, which is now being imposed on the society, to be over... But at the same time we want to be constructive and open to any kind of new cooperation."
Saakashvili also said that the new government should stop accusing him and UNM of hindering its work and should instead focus on delivering on its pre-election promises. He also said: "We are not creating any political crisis."