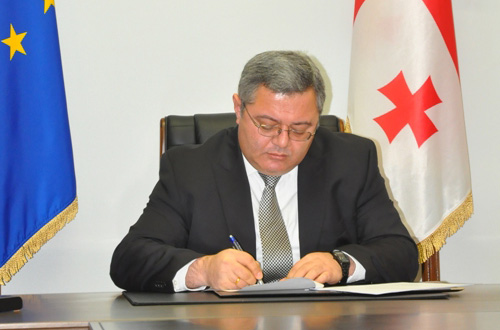 Parliamentary Chairman Davit Usupashvili signs bill on amnesty into law on January 12. Parliament's press office photo
Parliamentary Chairman Davit Usupashvili signed on January 12 amnesty bill into law authorizing release about 3,000 prisoners, as well as reduction of prison terms for thousands of others.
The bill was signed by Usupashvili in a live televised broadcast after the Parliament overturned the presidential veto for the first time in Georgia's history in late December.
January 11 was a deadline for the President to sign the bill after his veto was overridden, but he refused and the Parliamentary Chairman, the second highest ranking official in the country, became eligible to sign the bill into law.
190 inmates, recognized by the Parliament's December 5 resolution as political prisoners, will be the first of those inmates who will be released from jails under this amnesty.
The ministry in charge of the penitentiary system said that those recognized as political prisoners would be released from 10am to 11am on January 13.
The document envisages several forms of amnesty such as full exemption from punishment, which will apply to about 3,000 inmates; as well as halving of prison sentence or reducing it either by one-third or by one-forth. Reduction of prison sentence by one-fourth will apply to almost all the prisoners, who do not fall under other forms of amnesty.
"I understand that this bill caused much controversy; it could not have been otherwise, because this bill concerns very delicate and very important issue," Parliamentary Chairman Davit Usupashvili said during the signing of the bill.
"The process of drafting the bill was not flawless, but these shortcomings cannot be even compared to what was happening in the justice system and penitentiary system for years. For that reason the new government, the Parliament delivered on its promise to put an end to this and it led to this broad amnesty," Usupashvili said.
"I want to also address those to whom this bill will apply to make proper conclusions about this decision of Georgia's new government – the proper conclusion will be to return back to normal life, to families and friends as full-fledged members of the society and we will spare no efforts in order to ease their resocialization. I address families and friends of these people – they need our support now; they need our attention now in order for them not to get on a wrong way again," Usupashvili said.
"I address the law enforcement agencies, which are doing a great job to fight against crime, to also pay special attention to this issue," he said.
"With signing of this bill I and the new authorities confirm once again that we take responsibility for this act and we believe that those to whom it will apply will also show responsible approach and this act will be the act of unity and freedom and not something that will bring problems," Usupashvili said.
Usupashvili stressed separately on the issue of 190 political prisoners to whom the amnesty will also apply and said that "for years people were persecuted in Georgia for political reasons".
"Georgia should never again require such an act in the future because no one should be persecuted for political reasons; the new government should spare no efforts for this purpose and the society, media, international organizations should be much more vigilant and uncompromising than they were during the previous government," he said.
Immediately after Usupashvili signed the amnesty bill, President Saakashvili's United National Movement (UNM) again condemned the bill, especially the part of the amnesty which concerns political prisoners.
Among those 190 inmates who were recognized by the Parliament as political prisoners are those who under the previous authorities were convicted during the closed-door trials for charges related to espionage in favor of Russia.
Speaking at a news conference immediately after the bill was signed into law, a senior UNM lawmaker Giorgi Gabashvili condemned the amnesty as an "act of full-scale capitulation" because, he said, it would result into "release of Russian spies".
"The day will come when [the new government] has to face responsibility for this criminal and capitulant act," he said.
President Saakashvili said on January 12 that by signing this bill into law PM Ivanishvili's government was taking "responsibility for very grave consequences which will follow mass release of criminals and release of Russian spies [from jails]."