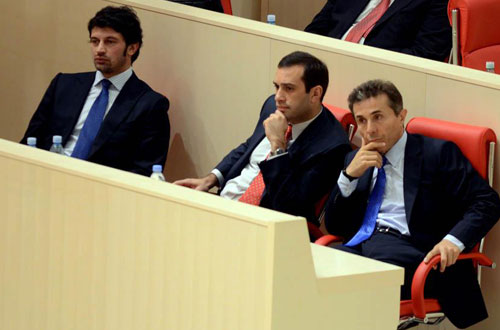 PM Bidzina Ivanishvili (right); defense minister Irakli Alasania (center) and Kakha Kaladze, energy minister, who is second deputy PM seen on this photo from October 24, 2012 during a meeting with UNM parliamentary minority group in Kutaisi.
Defense Minister Irakli Alasania, who at the same time was the First Deputy Prime Minister, will no longer hold this latter post.
PM Bidzina Ivanishvili signed decree, ordering Alasania's demotion, on January 21.
It is not yet clear who will replace Alasania, who remains on the post of Defense Minister, as First Deputy PM.
The Georgian PM has two deputies; another Deputy PM is Kakha Kaladze, the Minister of Energy.
The news about Alasania's demotion broke on January 23.
Alasania told journalists on January 23 that there was "no misunderstanding" between him and PM Bidzina Ivanishvili and the reason behind PM's decision to relinquish him of First Deputy PM's duties aimed at allowing him to focus fully on defense issues.
Previous night Alasania spoke at public TV's political talk show Accents, but he did not mention anything about this decision of the PM.
Alasania, however, spoke about having "hard talk" with PM Ivanishvili over presidential elections scheduled for October, 2013.
Alasania's Our Georgia-Free Democrats (OGFD) party, unlike other members of the Georgian Dream (GD) six-party coalition is in favor of, as Alasania puts it, "strong presidential system with strong parliamentary oversight", while others in the coalition, among them, Republican Party and Ivanishvili's Georgian Dream-Democratic Georgia party, are in favor of parliamentary system.
On the other hand Alasania reportedly wants to run for presidency in October, 2013 elections – something that PM Ivanishvili reportedly does not want.
In addition some senior GD lawmakers, particularly MP Vakhtang Khmaladze from Republican Party and MP Zakaria Kutsnashvili from Ivanishvili's party, have recently floated an idea to launch discussions whether to keep president's post directly elected or to make it elected by the Parliament. PM Ivanishvili once said that MP Khmaladze might be the best candidate for presidency under the parliamentary system.
Asked during an interview with public TV's program Accents late on January 22 about his presidential ambitions and upcoming elections, Alasania reiterated differences within the coalition about whether to have presidential or parliamentary system. He, however, said that now it was still too early to speak about who would be GD coalition's candidate in the October, 2013 elections.
"We have not yet talked about it within the coalition," Alasania said.
He, however, said that he had discussed within his OGFD party whether to offer the coalition party's candidate for the presidential elections.
"I will not hide that few days ago I had a hard talk with PM over this issue," Alasania continued. "The PM had certain concerns that these discussions were ongoing without an agreement with him. I agree fully with him that the presidential candidate should be agreed with the coalition and agreed with the coalition leader Bidzina Ivanishvili. So we talked about it."
"It was unpleasant for me that such an inconvenient conversation took place and that reason for such inconveniency emerged," he said.
Asked if he was confirming reports about "tensions" between him and PM Ivanishvili, Alasania responded: "No, there is no tension."
"It was simply a healthy conversation between superior and his team member. That's natural. It would have been bad if PM did not allow possibility of such open conversations. We have discussed all these issues. And we have agreed to continue working together. It is a single team. When time comes to decide [about presidential candidate] we will decide it all together."

Alasania said that the issue of making presidential post indirectly elected was not at all discussed within the coalition. "It's an opinion of Khmaladze, Kutsnashvili," Alasania said and repeated that there were different opinions within the coalition over whether to have presidential or parliamentary system. He, however, stressed that eventually the coalition would agree on "a single position."
The last time when PM Ivanishvili commented on presidential elections and GD coalition's possible candidate was on January 17 during his visit to Armenia when he was interviewed by RFE/RL Armenian service.
Asked about Alasania's reported ambitions to run in the elections; Ivanishvili responded: "I know about Alasania wanting [to run for presidency] only from rumors."
"He did not say anything about it to me and it was not discussed within the [Georgian Dream] coalition. There are rumors about it. He has the right [to run for presidency] if he wants, but the coalition has not discussed it. I think it is early now [to discuss this issue]. The presidential elections will not be as tense as the parliamentary elections were and have no such importance as the parliamentary elections had. I think we will discuss it in two or three months in the coalition and we will name candidate and most probably we will have a single candidate, although each member of the coalition has the right to name its own candidate by leaving the coalition," PM Ivanishvili said on January 17.
In his interview with the public TV's program Accents late on January 22 Alasania was also asked about recent allegations of President Saakashvili, which were further fueled by resignation of deputy foreign minister Nikoloz Vashakidze, that the new government was making a shift from Georgia's pro-western foreign policy towards Russia.
"No one should think even for a minute within or outside Georgia that Georgia's foreign policy course is changing," Alasania responded.