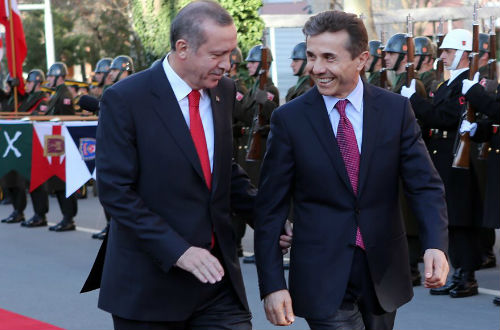 Turkish PM Recep Tayyip Erdoğan (left) and Georgian PM Bidzina Ivanishvili at a welcoming ceremony for the Georgian delegation in Ankara, February 14. Photo: Georgian PM's press office
Level of good neighborly relations between Turkey and Georgia should be an example for other countries in the region, Turkish Prime Minister Recep Tayyip Erdoğan said after meeting with his Georgian counterpart Bidzina Ivanishvili in Ankara on February 14.
Georgian PM Ivanishvili said at a joint news conference after the meeting that there was a possibility to further deepen already close ties between the two countries.
"We have agreed on actually all the issues discussed [during the meeting] and we agreed to further discuss and resolve positively all those issues on which we have not agreed," PM Ivanishvili said.
Turkish PM Erdoğan said that broad range of issues was discussed, involving political, trade and economic aspects, as well as issues related to rehabilitation of sites of cultural heritage, handing over of Turkish citizens serving prison terms in Georgia and repatriation of Meskhetians back to Georgia – survivors or descendants of a Muslim population who were deported by Joseph Stalin from southern Georgia in 1944.
PM Erdoğan said during the press conference that his Georgian counterpart showed his positive attitude towards solving all these issues.
PM Erdoğan also noted that Turkey was Georgia's largest trading partner with trade turnover between the two countries exceeding USD 1.5 billion in 2012. He said that there was a possibility to further boost bilateral trade.
While import from Turkey into Georgia amounted to USD 1.39 billion, export from Georgia to Turkey was only USD 142.7 million last year, according to the Georgian state statistics office Geostat.
Earlier on February 14, the Georgian delegation, led by PM Ivanishvili, met with Turkish President Abdullah Gul and Parliamentary Speaker Cemil Çiçek.
In Turkey the Georgian Prime Minister was accompanied by Economy Minister Giorgi Kvirikashvili; Foreign Minister Maia Panjikidze; Defense Minister Irakli Alasania; Energy Minister Kakha Kaladze; head of the state-owned JSC Partnership Fund Irakli Kovzanadze, as well as senior officials from the finance and culture ministries.