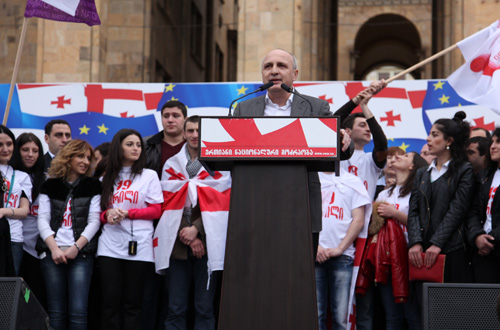 Vano Merabishvili addresses UNM rally outside old parliament building on Rustaveli Avenue, April 19. Photo: Guram Muradov/Civil.ge
UNM secretary general, Vano Merabishvili, said in his address to supporters at a rally outside old parliament building on Rustaveli Avenue that it was a "historic" day, which showed to PM Ivanishvili that people would not let the government to turn country away from the European path.
"April 19 has already made a history; by turning out at this rally you put the threat Georgia was facing into the past; from this day on neither Ivanishvili nor his ministers and neither Vladimir Putin nor anyone else will dare to even dream about turning Georgia away from Europe," Merabishvili said.
"Today government saw that there are many people in Georgia, who will not allow turning country back into the past," he said and added that he was "happy today" because over two decades ago when "national movement was starting in Georgia only few hundred or thousand people were turning out [at protest rallies] to fight for Georgia's independence, but today when Georgia's [pro-western foreign policy] course has been questioned, tens of thousands of people came out in Tbilisi streets."
He said that UNM would "learn on its own mistakes"; he also said that while being in power UNM "created new state", but failed to resolve the problem of unemployment.
"From this day on, the National Movement's major task will be to maintain jobs for those who already have it and to force the government to create new jobs and if it fails to do it, we will replace the government, we will come into power and our major goal will be to have not a single unemployed in Georgia," Merabishvili said.
"I call on Bidzina Ivanishvili to direct all of his time, energy and, if needed, his own money towards wellbeing of the people and revival of the economy," Merabishvili said, adding that UNM was ready to help the government in achieving this task. "But so far this government has done nothing but lies, blackmailing and pressuring… By going down that road, Bidzina Ivanishvili may join list of the least popular politicians, which will not allow him to end his term in office; so it is in Georgia's interest for everyone to stand together and to force the government to direct all of its energy towards Georgia's wellbeing."