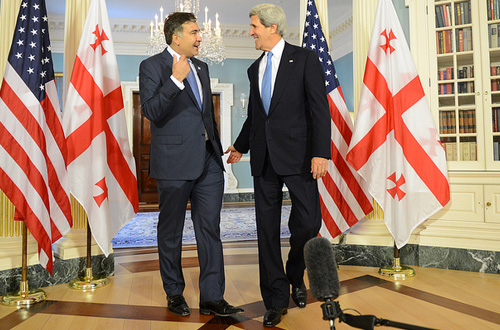 President Mikheil Saakashvili and Secretary of State John Kerry before the meeting in the Department of State on May 1. State Department photo.
U.S. Secretary of State John Kerry met President Saakashvili in Washington on May 1 and reiterated U.S. support to Georgia's NATO integration and welcomed "the democratic transition that has been taking place" in Georgia.
"We are very grateful in the United States for the assistance that Georgia has given us with respect to Afghanistan. Georgia is the largest contributor of troops of a non-NATO country. And they have also made significant commitments with respect to post-2014," Kerry said in remarks for the press before meeting President Saakashvili in the Department of State.
"Just as importantly, we are very supportive of Georgia's aspirations with respect to NATO and Europe," he said.
"We applaud the democratic transition that has been taking place. The President engaged in the first peaceful election transfer of power, and I know is committed to continue the work for the democratic aspirations of the Rose Revolution," Kerry said of Saakashvili, whom he describe as a good friend.
"I know his [Saakashvili's presidential] term is up this fall. I'll be anxious to talk to him about the future," Kerry said. "The democratic transition in Georgia is vital, it's important, and we're grateful to everybody's efforts to keep that on track."
President Saakashvili said in his remarks before the meeting: "Of course we are here to talk about NATO."
"We want American support for NATO. We want America's support of further Euro-Atlantic integration at this very difficult and crucial moment for Georgia's democracy and Georgia's survival," said Saakashvili.
"And certainly we want to see America strong. And I think instrumental in that is having you in this office as well, with your experience, with your international renome, contacts, because we have admired you for all these years as a senator, a great friend, as a really knowledgeable person," said Saakashvili, who thanked Kerry for visiting and supporting Georgia after the August, 2008 war with Russia when he was the Senator.
Secretary of State's meeting with Saakashvili came one week after John Kerry met Georgia's foreign minister, Maia Panjikidze, in Brussels on April 24.