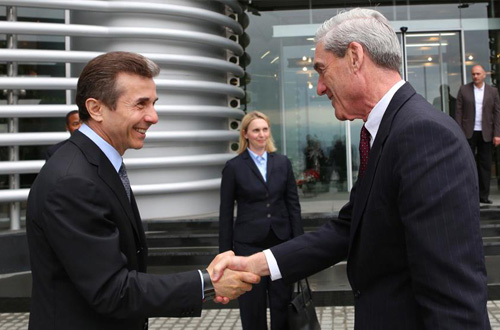 PM Ivanishvili (left) and FBI director Robert Mueller, Tbilisi, May 8. Photo: Georgian PM's press office
(UPDATE: adds U.S. embassy's press release about FBI director's visit)
FBI director Robert Mueller held talks with Georgian PM Bidzina Ivanishvili, as well as Justice Minister, chief prosecutor and senior Interior Ministry officials in Tbilisi on May 8.
Mueller was in Moscow on May 7 where he met with Russian law enforcement officials to discuss the bureau's investigation of the Boston Marathon bombings, The Associated Press reported.
The U.S. embassy in Tbilisi said that FBI head's visit to Georgia was part of his "regional trip".
It said that in Tbilisi Mueller discussed "law enforcement cooperation between the United States and Georgia, critically important in the shared fight against international crime and terrorism."
"The law enforcement partnership between the U.S. and Georgian remains mutually beneficial, productive, and successful as demonstrated by the recent collaboration on an international child pornography case," the U.S. embassy said.
"Director Mueller underscored the solid partnership and successful history of cooperation between the FBI and Georgian law enforcement and received assurances that the Ministry of Internal Affairs and the Ministry of Justice will remain strong partners of the FBI in the future," it said.
Georgian PM's office said that deepening of cooperation was discussed during Ivanishvili's meeting with FBI director.
"The Prime Minister noted that Georgia's new government will spare no efforts in order to further increase U.S. interest towards Georgia," the Georgian PM's office said.
On May 8 FBI director also met Justice Minister Tea Tsulukiani and chief prosecutor Archil Kbilashvili. The Justice Ministry said that the Georgian officials expressed readiness to continue cooperation with FBI and to work jointly with the U.S. counterparts to deepen ties in those areas where there is room for improvement.
The FBI director also held talks with the senior Interior Ministry officials, including Deputy Interior Minister Alexander Tabatadze on Wednesday.
This is FBI director Mueller's second visit to Georgia in last three years.
He was in Tbilisi in May, 2010 when he held talks with then interior minister Vano Merabishvili and then justice minister Zurab Adeishvili.