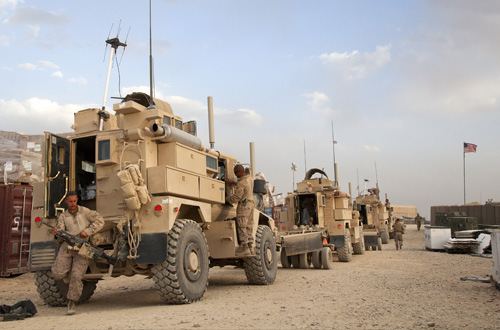 U.S. Marines assigned to 42nd Battalion Georgian Liaison Team (GLT) 8 unload weapons and gear after returning from a mounted patrol on forward operating base Shir Ghazay, Helmand province, Afghanistan, May 7, 2013. U.S Marine Corps photo by Cpl. Alejandro Pena via DVIDS
Three Georgian servicemen were killed after a suicide bomber rammed an explosives-laden truck into their base in the Helmand province, accompanied with an attack by a group of insurgents, Defense Minister, Irakli Alasania, said late on Monday evening.
Several Georgian soldiers were wounded.
Alasania, however, declined "at this stage" to specify number of those wounded in this attack, which he described as "the largest" one on the Georgian troops since deployment in Afghanistan in late 2009.
NATO-led International Security Assistance Force (ISAF) said in a statement on Monday: "Three International Security Assistance Force service members were killed today when insurgents attacked their position in southern Afghanistan with a vehicle-borne improvised explosive device."
This recent incident brings total death toll of the Georgian soldiers in the ISAF mission to 22.
Corporal Alexander Kvitsinadze; junior sergeant Zviad Davitadze and corporal Vladimer Shanava from the 42nd battalion of the fourth infantry brigade died in the attack.
Defense Minister Alasania, who visited Georgian troops in Afghanistan earlier this month, said that "the combined attack", involving a suicide truck bomber and "a group of insurgents", started at 4:17pm on May 13.
"The Georgian soldiers repelled the attack and destroyed all the terrorists involved in the attack," Alasania said. "I want to note Georgian troops' courage and heroism; this very courage and soldiers' professionalism helped to evade even bigger tragedy."
Georgia has almost doubled its contribution to the ISAF mission to over 1,560 last autumn.
Georgia joined ISAF mission in November 2009 with deployment of about 170 soldiers in Kabul. In April, 2010 Georgia increased its contribution by sending a battalion to the Helmand province and in October, 2012 Georgia added one more battalion.