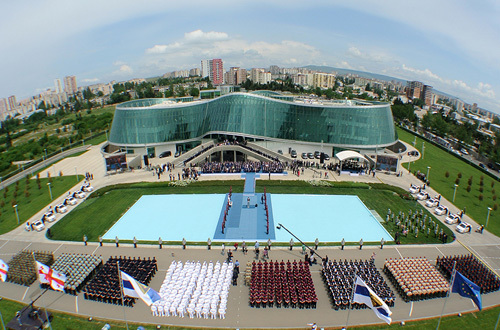 Police forces lined up outside the Interior Ministry on May 19 as they mark the Day of Police, originally introduced in 2010 and previously marked on May 6. Interior Ministry photo
Police forces paraded and new patrol police vehicles and motorbikes were put on display outside the Interior Ministry building on Sunday to mark the Police Day, first introduced in Georgia in 2010.
The Interior Ministry also presented a body-worn patrol police cameras, which the ministry plans to introduce. It said that cameras, mounted on police uniforms, would be used for recording officers' interaction with civilians and for using the video as evidence in case of disputes. The Interior Ministry announced about intention to procure 2,900 such cameras earlier this month.
Addressing police forces outside the Interior Ministry, PM Ivanishvili praised Interior Minister Irakli Garibashvili and said: "I want to thank him as in this short period of time he confirmed that he is capable of managing this difficult structure in a dignified manner and you are happy to have a very good leader."
"He is a very honest man, very organized, very reliable and you have the leader, who will never let you down and never leave you in difficulty," Ivanishvili said.
New patrol police cars on display outside the Interior Ministry, May 19.
Interior Minister Garibashvili told the police forces that the major priority was to create "public-oriented, depoliticized police, which provides security and order through following norms of ethnics and not through repressions and violation of fundamental rights."
Tbilisi mayor, Gigi Ugulava, congratulated policemen in a Facebook post and expressed regret that the government did not invite either him or UNM parliamentary minority representatives at the event marking the Day of Police, adding that it was not in line with Georgian Dream's rhetoric about "police depoliticization."