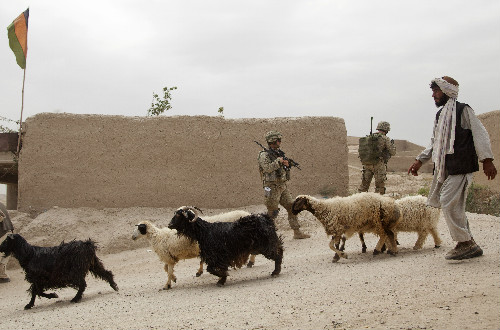 Georgian soldiers from the 42nd infantry battalion, provide security during a patrol outside forward operating base Shir Ghazay, Helmand province, Afghanistan, May 10, 2013. U.S. Marine Corps photo by Cpl. Alejandro Pena via DVIDS
Deputy chief of staff of the Georgian armed forces, Brigadier General Vakhtang Kapanadze, has dismissed a report by The New York Times about the Georgian troops in the southern Afghan province of Helmand as "sheer folly" and "aggregation of foolishness."
Reporting about truck bomb attack that killed seven Georgian servicemen, The New York Times wrote in a dispatch from Kabul, that "according to some local Afghan elders the Georgian troops are not particularly well liked in the area because they arbitrarily stop people for searches, do not treat them with respect and do not understand their language."
The NY Times reported quoting an elder from Landy Nawa, an area near Musa Qala in the north of Helmand province, where the Georgian troops have one of their bases: "Georgians are like our warlords, they don't behave well with people. Sometimes they stop passengers to search them and people complain they steal their belongings, their money, wristwatches and other valuables."
"I can tell you that what is written there [in The NY Times story] is sheer folly – that's in the best case," Brig. Gen. Kapanadze told Georgian public TV's program Accents late on Friday. "And in the worst case, that's part of a certain campaign and an order from someone."
He said that during patrol or cleaning operation the Georgian soldiers are accompanied by Afghan national army or police and the Georgian troops are not allowed to enter inside locals' houses. The deputy chief of staff of the army said that pre-deployment training of the troops also includes courses in how to interact with the local population, including learning their customs. Brig. Gen. Kapanadze said that "each and every Georgian serviceman is acting fully in line with rules of engagement".
"Observing these rules of engagement is part of an overall policy of winning hearts and minds of the local population," he said.
"This article is… an aggregation of foolishness. Couldn't they find someone more competent in Taliban who could have said something at least slightly closer to reality?" Brig. Gen. Kapanadze said referring to the man quoted in The NY Times article, who is described as local a local elder from Landy Nowa. "I am surprised why such article was published."
Asked if he thought that the Georgian authorities should react on The NY Times report, for example by sending a rebuttal letter, Brig. Gen. Kapanadze responded: "I would have made the author [of this article] to swallow the entire newspaper; what the reaction from the authorities should be – that's up to the political [leadership] to decide."
The same report in The NY Times also cites local Afghan government officials, who say they find presence of the Georgian troops helpful in keeping the roads open.
According to the same report General Joseph P. Dunford, the commanding general both for NATO and the U.S. troops in Afghanistan, offered his condolences to the Georgian people and "went out of his way to praise the Georgian contribution" to the ISAF mission.
"While this is a sad moment for the Georgian people and the coalition forces, we will not be deterred from our efforts to bring stability and security to the Afghan people," he said. "Georgia's support of the ISAF mission has been steadfast and tangible. While many have contributed to the security improvements in Afghanistan, Georgian soldiers have always stood out for their toughness and willingness to take on difficult missions."