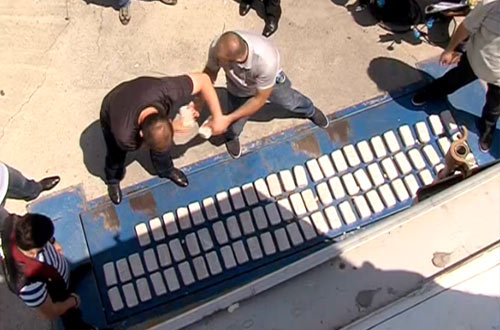 A screengrab from police video showing officers taking, what the Interior Ministry said are, packages of heroin from a truck.
The Georgian Interior Ministry said it seized 116 kg of heroin and arrested two foreign citizens in what appears to be one of its biggest ever drug hauls.
According to the Interior Ministry 232 packages of heroin each 500 grams, worth "tens of millions of U.S. dollars", were hidden in Mercedes-Benz Atego light truck, which entered into the Georgian territory on July 3 via Ninotsminda border crossing point, which is located on the Georgian-Armenian border.
The police released a video footage showing officers taking packages from within walls of cargo area of the box truck.
A Turkish citizen was driving the truck, which had Moldavian number plates; he was accompanied by another person who is a citizen of Moldova – both of them are detained, according to the Interior Ministry.
The Interior Ministry said drugs were intended for "international transit."
"Investigation is in progress in order to clarify factual circumstances of the case," the Interior Ministry said.
According to the most recent International Narcotics Control Strategy Report by the U.S. Department of State, which covers developments of 2012, Georgia is "a transit and destination country" for illicit drugs produced in other countries.
The most significant route, according to the report, runs from Afghanistan and Iran through Azerbaijan and Georgia, to destinations in Western Europe, Turkey, and Russia.
"International-bound trucks sometimes carry narcotics on this route, transiting Georgia before traveling to Ukraine, Moldova, or Bulgaria on Black Sea ferries," the report reads, adding that concealed compartments in passenger cars is also one of the means used to smuggle heroin from Iran to Turkey via Georgia, with the ultimate destination being Western Europe.
The report says that emphasis at Georgia's borders is on "facilitating trade, and less on control and inspection."
"As a result, drug seizures at the border vary significantly from year to year and do not give a reliable indication of the amount of contraband transiting the country. According to the Ministry of Internal Affairs, less than one-tenth of one kilogram (kg) of heroin was seized between January and June of 2012… [That is] marginally less than seizures in 2011," the International Narcotics Control Strategy Report reads.
375 kg of heroin was seized in the Bulgarian port city of Burgas in December, 2008, after arriving from the Georgian port of Poti.