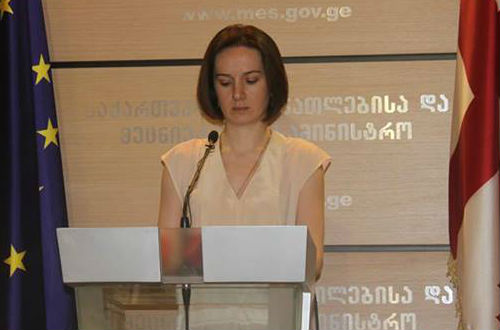 First Deputy Education Minister, Tamar Sanikidze is slated to replace Giorgi Margvelashvili as Education Minister. Photo: Ministry of Education
Education Minister and GD's presidential candidate, Giorgi Margvelashvili, said on Sunday that his first deputy will replace him on the minister's post after he steps down.
He said it in remarks to Guria News media outlet while visiting Chokhatauri in the Guria region together with PM Ivanishvili on July 14.
Tamar Sanikidze, who will turn 35 in August, was a financial director at the Georgian Institute of Public Affairs (GIPA) before becoming the first deputy minister of education in October 2012. Margvelashvili served as a rector of GIPA before becoming the education minister in October, 2012.
Margvelashvili has said previously for number of times that although the law does not obligate him to quit the minister's post while campaigning for the presidency, he will resign in order not to give rise to allegations of misuse of administrative resources during the campaign.
It will be the second change in PM Ivanishvili's cabinet since GD coalition came into government in October, 2012. Agriculture Minister, Davit Kirvalidze, had to resign after several officials from his ministry were arrested over alleged corruption case in early May; trial is pending.
Sanikidze, who will be the fourth female member of the cabinet, does not require Parliament's approval to take the post. Parliament's authorization is only needed when third of cabinet members are replaced.