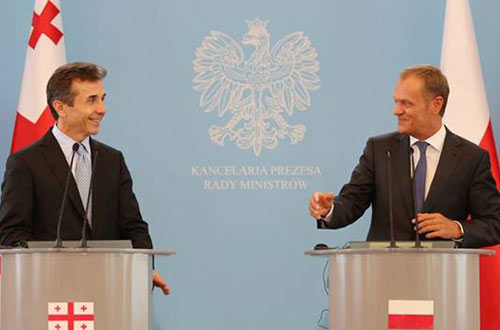 Georgian PM Bidzina Ivanishvili and Polish PM Donald Tusk at a joint news conference after a meeting in Warsaw on July 19. Photo: Polish government
Polish PM, Donald Tusk, said after talks with his Georgian counterpart Bidzina Ivanishvili in Warsaw on July 19 that the meeting strengthened his belief in the need of supporting Georgia especially in the context of upcoming Vilnius summit of Eastern Partnership.
Speaking at a joint news conference with his Georgian counterpart, PM Tusk said that regardless of who was in power either in Georgia or in Poland, relations between the two countries were always friendly, Polish news channel TVN24 reported. The Polish PM also said that PM Ivanishvili vowed to guarantee level playing field for and to respect the rights of opposition in Georgia.
PM Ivanishvili, who arrived in Warsaw after holding talks with the Lithuanian leadership in Vilnius a day earlier, said at the joint news conference with his Polish counterpart that the two had "a really friendly and warm meeting" and thanked Poland for its strong support to Georgia's EU and NATO aspirations, as well as to Georgia's territorial integrity.
"I received a lot of advices from PM [Tusk] and I am very grateful for that," Ivanishvili said and added that he invited his Polish counterpart to visit Georgia.
Also on July 19, PM Ivanishvili met in Warsaw speakers of the lower and upper houses of Poland's parliament Ewa Kopacz and Bogdan Borusewicz, respectively.
Summiting up his two-day trip to Lithuania and Poland, PM Ivanishvili told Georgian journalists in Warsaw on July 19 that the visit was "very successful."
"They [Lithuania and Poland] both are very much interested in Georgia's success at the Vilnius summit of [Eastern Partnership] and they have pledged that they will maximally support us," Ivanishvili said.
"We have also discussed relations with NATO and we expect that very positive statements will be made at next year's [NATO summit] about Georgia in respect of NATO," he said.
"It was a very successful visit and I am very glad that we managed to demonstrate our sincerity to our friends – although we spent much time and efforts, and I am glad that they have seen it," he added.
He also said that some critical views also persist both in Lithuania and Poland about Georgia's new leadership, "but I assure you that those who still have doubts about Georgia's new government are in minority."
"Both Lithuania and Poland have a very friendly [stance] towards our country and I assure that relations [of these two countries] with Georgia's new government will grow and deepen and no shadow whatsoever has been cast over these relationship," he said.
Ivanishvili also said that at every meeting both in Lithuania and Poland he was raising the issue of so called 'borderisation' at breakaway South Ossetia's administrative boundary line; he said that he was asking his interlocutors in Vilnius and Warsaw to speak out against this process.