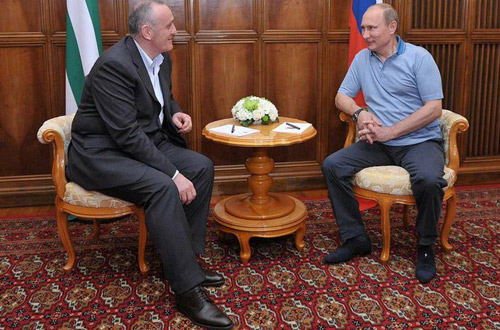 Abkhaz leader Alexander Ankvab (left) and Russia's President Vladimir Putin (right) during a meeting in Bichvinta on August 25. Kremlin photo
Russia's President Vladimir Putin met Abkhaz leader Alexander Ankvab in Bichvinta (Pitsunda), town in breakaway region, on August 25 to discuss "broad range of cooperation issues between the two countries," according to the Kremlin.
The meeting came ten days after Putin and Ankvab held talks in Sochi and a day before the fifth anniversary of Russia's recognition of Abkhazia and South Ossetia.
In a congratulation message sent to Abkhaz and South Ossetian leaders on August 26 on the occasion of the anniversary, Putin says that recognition of Abkhazia and South Ossetia on August 26, 2008 was "not an easy", but it was "the only right decision". He pledged to "continue providing comprehensive assistance and support" to Abkhazia and South Ossetia, according to the Kremlin.
Georgian Foreign Minister, Maia Panjikidze, condemned Putin's visit to Abkhazia as "yet another infringement of Georgia's territorial integrity and sovereignty." She said that a protest note had been sent to Russia via Swiss embassy.
Georgia's State Minister for Reintegration, Paata Zakareishvili, said that recognition of Abkhazia and South Ossetia by Russia further increased these two entities' dependence on Moscow.
"They actually became isolated. Military, political and economic dominance of a foreign state has never been as strong in Abkhazia and South Ossetia as over the past five years," reads a statement by the State Minister released on August 26. "Not only Abkhaz and South Ossetian societies failed to achieve international recognition, but they also face a danger of being absorbed by the huge state [Russia]."
After Russia, Abkhazia and South Ossetia were recognized by Nicaragua, Venezuela, Nauru and Tuvalu.
In an interview with the Abkhaz news agency, Apsnipress, foreign minister of breakaway Abkhazia Vyacheslav Chirikba accused Georgia's western partners of undermining efforts to achieve broader international recognition.

"Why the recognition is being slowed down? That's because of an incredible pressure, exerted by the U.S. and EU on those states, which express sympathy to the idea of Abkhaz independence. Blackmail, threats of economic and political nature are being used on the highest level," Chirikba said. "It is being done, by the way, not out of love to Georgia; the main reason is persisting Cold War-era instincts. Russia with its gigantic nuclear potential is still perceived in the West, especially among conservative circles of the U.S., as a threat to its hegemony in the world; from their point of view, Abkhazia chose to be on the wrong side of the barricade… But everyone in the West has already understood that Abkhazia will never return back to Georgia."
Chirikba, however, also stressed importance of maintaining contacts with the West for the purpose of trying to push Sokhumi's agenda and also noted in this context importance of the Geneva talks, which were launched after the August, 2008 war.
Asked about efforts to gain international recognition, South Ossetian leader Leonid Tibilov said in an interview with Russia's RIA Novosti news agency: "The most important is that the republic has been recognized by the Russian Federation."
He said efforts are underway to broaden recognition beyond Russia, Venezuela, Nicaragua, Nauru and Tuvalu. "There is sound basis to say that these efforts are carried out fruitfully and there will be certain achievements in this direction," Tibilov said without giving specifics.
The Georgian State Minister for Reintegration said in the statement on August 26: "We strongly believe that all the sides will soon realize negative consequences of the decision [on recognition] made five years ago, which led the peace process into deadlock. It is always possible to find a way out of this situation through saving face for each stakeholder and through taking into consideration their interests."