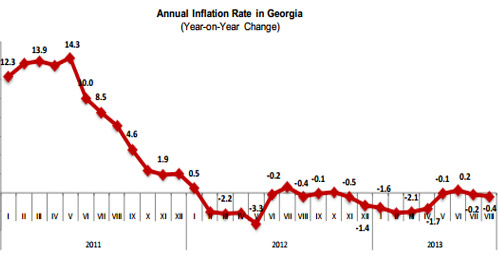 Annual inflation between January, 2011 and August, 2013. Source: Geostat
Georgia's annual inflation remained in negative territory at -0.4% in August after 0.2% deflation in July, according to the state statistics office.
There was zero inflation on monthly basis in August.
Prices in transport group declined 3.2% y/y in August and prices on food and non-alcoholic beverages were down by 1.2% y/y. Prices for healthcare services and hotels and restaurants increased 4.6% and 3.9% y/y, respectively.
In August the National Bank of Georgia further reduced its key rate by 25 basis points to 3.75% – the lowest rate since January 2008, when Georgia's central bank launched setting monthly refinancing rate.