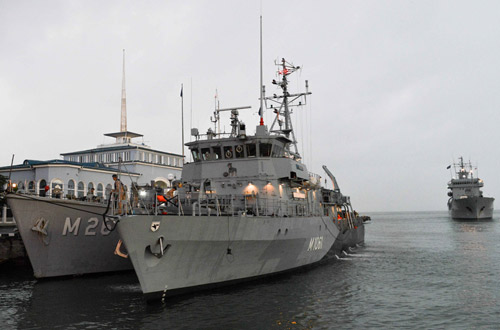 TCG Erdemli of the Turkish Navy side-by-side with FGS Rottweil of the German Navy in the Batumi port. Photo: NATO/HQ MARCOM
Three NATO ships, assigned to Standing NATO Mine Counter-Measures Group 2 (SNMCMG2), arrived in Georgia's Black Sea port of Batumi on September 6.
The group of visiting ships includes FGS Mosel and FGS Rottweil, both from the German Navy, and TCG Erdemli of the Turkish Navy. Before arriving in Batumi, the three NATO ships visited the Ukrainian Black Sea port of Sevastopol.
"During the visit [in Batumi], the NATO forces will train together with Georgian Coast Guards, conducting personnel exchange and joint exercises," SNMCMG2 said.
Firefighting exercises were held on September 7 and trainings with the participation of divers are also scheduled.
In parallel to port visit, NATO Allied Maritime Command (MARCOM) Deputy Chief of Staff Operations, Commodore Arian Minderhoud, is holding talks with the Georgian officials, including with the leadership of the Georgian Interior Ministry's Border Police, which is also in charge of the coast guard.