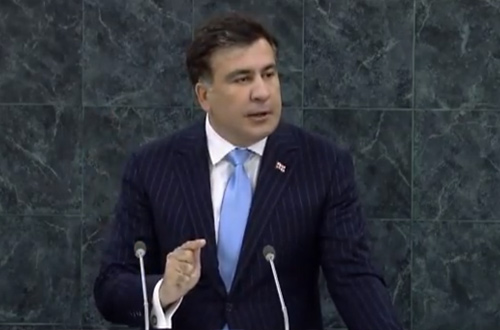 President Saakashvili addresses UN General Assembly, September 25, 2013.
In his address to the UN General Assembly on September 25, Georgia's outgoing President Mikheil Saakashvili lashed out at Russia for mounting "constant pressures and threats" on neighbors and said that "the last authoritarian empire in the world" will fail and its leader Vladimir Putin will vanish from the Russian politics in "few years from now."
In his speech Saakashvili, whose second and final presidential term nears its end, also mentioned his tenure saying that "many good things" have been done under his leadership, but also added that "some of these things were done at a very high cost."
"It makes me sick when KGB officer Vladimir Putin lectures the world about freedom, values and democracy," Saakashvili said. "But this new project [the Eurasian Union] is much more dangerous than his lectures."
"The Eurasian Union has been shaped as an alternative to the European Union and unveiled by Vladimir Putin as the main project of his new presidency – the new Russian empire," Saakashvili said in his 30-minute speech.
Russian representatives were listening to Saakashvili's address for first twenty minutes and then walked out of the General Assembly hall.
Russia's UN envoy, Vitaly Churkin, slammed Saakashvili's speech as "Russophobic" and said, according to the Russian state-run English-language channel Russia Today: "Luckily for Georgian people, this man – whose mental state needs a professional expertise – is in the twilight of his political career."
Russia was one of the main topics in Saakashvili's all of the previous nine UN speeches since becoming the Georgian President in 2004. But while in his first two addresses to the UN General Assembly in 2004 and 2005 he was speaking mainly on the need of cooperation, rhetoric was toning up in following years as relations between the two countries were getting worse.
"I was never a great fan of what the French call la langue de bois [wooden language], but as my second term nears its end, I feel more than before the urge to speak my mind," he said in the address on September 25, which was his lengthiest one than any of his previous UN speeches.
When speaking about the Eurasian Union, he also made an apparent reference to recent remarks by PM Ivanishvili, who said that EU and NATO integration is "cornerstone" of Georgia's foreign policy and also added that the government was watching and "studying" the Eurasian Union initiative. "If in perspective we see that it is interesting for the strategy of our country, then why not," Ivanishvili said.
Saakashvili said: Because European and Euro-Atlantic integration take a lot of time and… because there are moments when you might think you are pursuing a mirage… some people in our region might fall victim to fatigue and ask themselves: why not?"
He said that Kremlin's "mouthpieces", which he also described as "conscious or unconscious 5th column" identify the EU with "the destruction of family values, the erosion of national traditions and the promotion of gays and lesbians."

"Strangely, in recent years and even more in recent months, we hear in Tbilisi, Kiev, or Chisinau the same ugly music that was first orchestrated in Moscow that our traditions are collapsing under the influence of the West, that Christian holidays will be replaced by gay pride events, and Churches by multicultural Disney Lands," Saakashvili said.
Saakashvili also said that "the Russian project is doomed to fail."
"Few years from now – you will recall my words – Vladimir Putin will have left the Kremlin and vanished from the Russian politics, even if he says that he will be there for another twenty years," he said. "Russian citizens will remember him as a ghost from the old times – the times of corruption and oppression."
Saakashvili said that the "hostility" of Putin towards his government "was not based on personal hatreds."
"Do you think the Kremlin would agree to discuss the de-occupation of our regions of Abkhazia and South Ossetia, now that the government has changed in Tbilisi? Far from it," he said. "Despite the friendly statements made by the new Georgian government in the recent weeks and months, the Russian military keep advancing positions, dividing communities with new barbwires."
'Cut Corners, Radical Methods and Mistakes'
In his speech, Saakashvili also spoke briefly about his presidential tenure and said that he takes pride in "many accomplishments" that Georgia achieved since 2004.
"We did many good things. When I became the President at that moment I was the youngest president in the world," he said. "I realize that some of these things were done at a very high cost. In our rush to impose a new reality, against the background of internal and external threats, we have cut comers and certainly made mistakes."

"We went sometimes too far and other times not far enough. I acknowledge fully my responsibility in all these shortcomings and I sincerely care for all those who have felt that they did not benefit enough from our work or even that they were victims of our radical methods."
"I want to tell to all Georgian citizens – to those who supported our project, our policies and our party and to those who rejected them – I want to tell them how proud I am of their maturity and their bravery, how humble I feel looking at the sacrifices and the efforts they have made," he said.