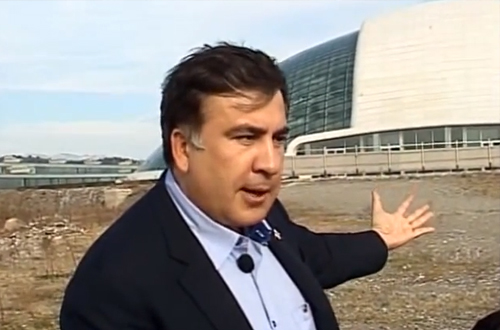 A screengrab from a video footage showing outgoing President Mikheil Saakashvili speaking with journalists outside the Parliament building in Kutaisi on October 17.
Parliament is expected to be relocated from Kutaisi back to capital Tbilisi for next year's spring session, parliamentary chairman Davit Usupashvili said on October 18.
He said number of tentative proposals have been floated and discussed within the authorities about what to do with USD 200 million worth 40-meter high glass-domed new building in Kutaisi after the Parliament's relocation.
One of the proposals being discussed, Usupashvili said, is to invite a "serious international organization" to turn the building into its regional headquarters, which may cover not only Caucasus but Central Asia as well.
"The spring session of the Parliament will probably be opened in Tbilisi," he said. "It, however, does not mean that we are abandoning building in Kutaisi. Roughly USD 200 million was invested in construction of this building and it can't be left without having any purpose and we are now working on various tentative options on how this building can be used… If this idea about making it a regional center for a serious international organization turns real, it will be very beneficial for Kutaisi."
Relocation of the Parliament back to Tbilisi requires constitutional amendment.
GD initiated a relevant amendment in December 2012, but it has been shelved since then. The proposal met a fierce opposition from outgoing President Saakashvili and his UNM parliamentary minority group. GD lacks two-thirds majority in the Parliament for endorsing a constitutional amendment.
After the October 27 presidential election a new constitution will go into force increasing threshold for passing a constitutional amendment to three-fourths majority. GD wants to change that and keep the threshold at two-thirds majority, but also signals readiness to agree on an option recommended by the Venice Commission to have two-thirds majority and two votes with a three-month interval.
Usupashvili says that reconstruction of Parliament's old building in Tbilisi center is ongoing with "more than half of the works already completed."
He said reconstruction of the building is expected to be over by February, 2014.
Outgoing president Saakashvili was in Kutaisi on October 17; standing outside the Parliament, he criticized GD's government for planning to relocate the Parliament from Kutaisi and also said that amid upcoming presidential election, now it's up to the voters in Kutaisi and other parts of the Imereti region to choose between continuation of development or "mythical promises".

Parliament speaker Usupashvili said that the issue of Parliament's location "is painful" for Saakashvili, but moving back to Tbilisi is important for Parliament's normal functioning.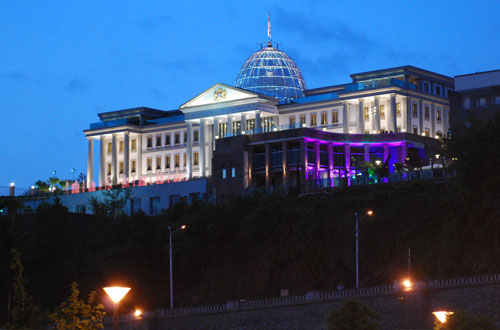 Presidential Palace in Avlabari district of Tbilisi. Civil.ge file photo
In a separate development, but also related to housing of branches of power, the government reiterated on Friday that the glass-domed presidential palace, built by the previous authorities, will no longer serve as a residence of the president's administration after the October 27 election.
New president will be based in a building, which is currently undergoing major reconstruction on the Atoneli Street – the venue which several years ago was housing the U.S. embassy. The previous authorities started reconstruction of this building, which initially was designed for PM's office, but the new authorities changed plans and it will now become president's residence.
Chief of government's administration, Maia Tskitishvili, said on October 18 that the government has yet to decide what to do with the current presidential palace in Avlabari, which was built during Mikheil Saakashvili's presidency.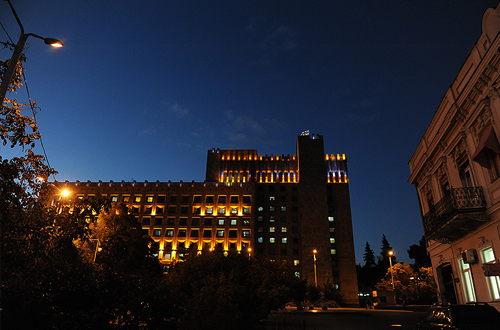 Government's building, known as the State Chancellery, will temporarily house office of the president before new presidential residence on the Atoneli Street is completed, according to head of the government's administration Maia Tskitishvili. Photo: Eana Korbezashvili/Civil.ge
Before the new presidential residence on Atoneli Street is completed, new president's office will be based in the State Chancellery, which houses government's administration, as well as offices of several state ministries and the National Security Council.