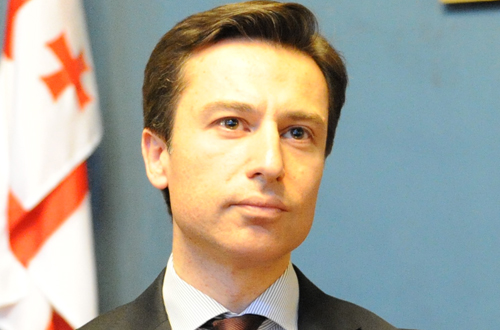 Photo: Eana Korbezashvili
Giorgi Targamadze, 39, is a leader of the Christian-Democratic Movement (CDM), the party he founded ahead of the 2008 parliamentary elections after quitting journalism.
It was a political comeback for him. He was a chairman of a parliamentary faction of ex-leader of Adjara Aslan Abashidze's Revival Union before March 2003, when he resigned from Parliament and politics altogether.
CDM which had a small minority group in UNM-dominated Parliament in 2008-2012 was denounced as UNM's "satellite" and "pseudo-opposition" party by detractors, among them Bidzina Ivanishvili, who is now the PM, and hailed as "constructive opposition" by supporters.
In the most recent spat between him and PM Ivanishvili the latter said on October 17 that Targamadze for him is "an etalon of treachery", who has always been "on a position, which was against the country." Targamadze responded that he would sue Ivanishvili for insult and demand GEL 1 billion in compensation.
In 2012 parliamentary elections CDM garnered slightly over 2% of votes and failed to endorse its members into the legislative body.
Giorgi Targamadze started his presidential campaign by collecting signature of citizens demanding to include a new clause in the constitution which would say that gay marriage is banned in Georgia; he is also campaigning for increasing official minimum subsistence level, which is now hovering around GEL 150 per month, to GEL 250.
Targamadze says that the sitting parliament should be disbanded and early parliamentary elections held.