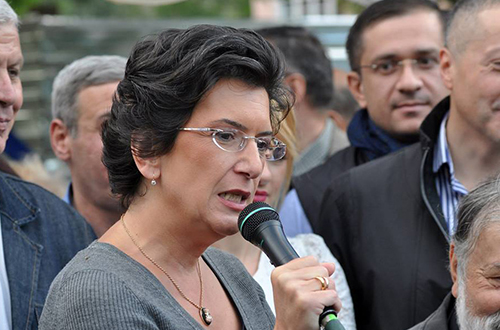 Photo from Burjanadze's Facebook page
Nino Burjanadze, 49, was parliament speaker from 2001 to 2008 and served as an interim president twice for forty days each time – once after the 2003 Rose Revolution and then after Mikheil Saakashvili stepped down in November, 2007.
Saakashvili's ally before quitting UNM party just before the parliamentary elections in 2008, Burjanadze turned into the outgoing president's one of the fiercest critics. Burjanadze, whose party did not run in the October 2012 parliamentary elections, led the street protest rallies, which came to a violent end on May 26, 2011 after riot police broke up the demonstration on the Rustaveli Avenue.
Burjanadze, who is in politics since 1995, runs an active campaign, mobilizing activists throughout the country, in some cases even attracting activists from the ranks of the Georgian Dream. Burjanadze criticizes the GD for a failure to, as she puts it, deliver with its pre-election promise to restore justice and for entering into political cohabitation with UNM.
On foreign policy issues, she criticizes GD for not launching "full-scale" high-level negotiations with Russia. Burjanadze, who met Vladimir Putin in Moscow in late 2010, says she will not shun away from direct high-level contacts with the Russian leadership out of fear of being dubbed as pro-Russian.
On GD presidential candidate, Giorgi Margvelashvili, who once was her advisor, Burjanadze said: Margvelashvili "is a good, well-educated person", but he won't be able to properly perform presidential duties "in today's Georgia" because "he has neither experience nor competence for that." Burjanadze says she is confident of winning the October 27 election and a vote count result other than her victory will mean ballot-rigging. Most recently she said that she will win the race if not in the first round, at least in the runoff.