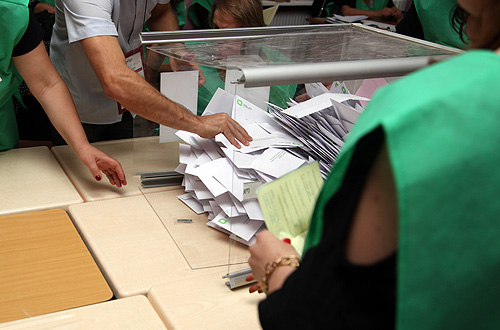 Election officials empty a ballot box to start counting at one of the Tbilisi's polling stations on October 1, 2012 parliamentary elections. Photo: Guram Muradov/Civil.ge
Georgian voters will go to polls this Sunday to elect the fourth president for a five-year term, replacing incumbent Mikheil Saakashvili, who has been in office since January, 2004.
It will be the first time in Georgia when incumbent president is replaced through elections after serving second term in full (President Saakashvili did not serve his first term in full as he resigned in November, 2007 – fourteen months before the end of his first term; he was re-elected in disputed early election in January 2008 for a second five-year term, which actually turned out to be five years and over nine months).
New president will have significantly less powers than the incumbent has been wielding since the constitution was revised in February, 2004.
Constitutional provisions, adopted three years ago when President Saakashvili's UNM party was in power, will go into force when newly elected president is sworn in, shifting most of the presidential powers to Prime Minister.
This shift of power to some extent has been de facto in place since October, 2012 parliamentary election when Bidzina Ivanishvili became the Prime Minister after his Georgian Dream coalition won the elections. The most visible instances of resorting to his major constitutional levers during the political cohabitation period were when President Saakashvili was using veto power. He vetoed eleven proposals since the new parliament was elected; in ten cases vetoes were overturned and in one case GD actually accepted presidential objections.
The new constitution also stipulates the sitting government to step down after inauguration of the new president.
Prime ministerial candidate has to be selected by GD parliamentary majority group and formally nominated by president. Prime ministerial candidate will then name ministers of his cabinet, which will then require support of more than half of MPs (at least 76 votes) for confirmation.
PM Ivanishvili says he plans to quit politics and not to seek re-election as PM after the presidential vote; he plans to name his preferred new PM week after the presidential election.
There are total of 3,537,719 voters in Georgia eligible to cast ballot in the October 27 presidential election, according to updated data released by the Central Election Commission (CEC) on October 19.
Details about number of voters, including breakdown of number of voters by regions and districts available on this link.
New Presidential Powers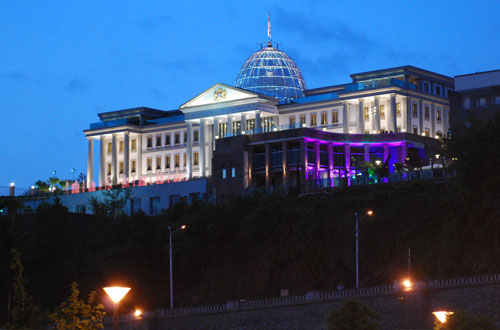 Presidential Palace in Avlabari district of Tbilisi will no longer serve as a presidential residence for the new president, according to government's decision. A new residence is currently being constructed on the Atoneli Street. The government has yet to decide what to do with the existing presidential palace. Civil.ge file photo
The new constitutional model is mainly regarded to be a shift from a rather presidential system to a mixed one where the executive power is concentrated within PM and government, which are accountable to the Parliament.
Under the new constitution the President will remain the head of state, a commander-in-chief and will represent the country (and not be a "supreme" representative as it is under the current constitution) in foreign relations;
President will no longer "lead and exercise" domestic and foreign policy of the state; this authority will be delegated to PM and the government;
President will have the right to carry out negotiations with governments of other countries or to sign international treaties, but only with approval from the government;
President will have the right to appoint or dismiss chief of staff of the armed forces and other top military commanders, but only with agreement of the government;
Many of the legal acts issued by the President will require authorization from the Prime Minister; but no authorization will be needed for presidential acts issued during war, as well as acts concerning a decision to dissolve the Parliament, calling elections, signing bills into law, appointing judges;
President will not have the right to appoint or dismiss ambassadors without government's approval (it will no longer be up to the Parliament to confirm ambassadorial nominations);
President will no longer have the right to initiate draft laws;
Although under the new constitution presidential powers will be significantly reduced, the new president will retain an important role in case of non-confidence vote to the government;
President will have the right to veto prime ministerial nomination by the Parliament. The procedure for non-confidence vote itself is lengthy and complex, which may take 50-60 days or possibly even 70-80 days in case of the presidential veto on prime ministerial nominee.
President will have the right to appear before the Parliament once in a year to deliver annual report;
Presidential Candidates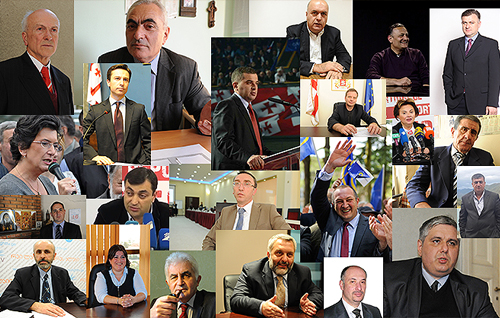 Compilation of photos of the presidential candidates.
23 candidates are running in the October 27 presidential election – the largest number of candidates since Georgia held its first presidential election in 1991.
Many of the candidates are either little-known or complete unknown to the public and some have not been active in politics either recently or ever before.
Ten candidates have been nominated by political parties and thirteen candidates were named by "initiative groups".
There were total of 54 applicants seeking registration as presidential candidates; but 24 of them were rejected by the CEC and seven of them withdrew their applications.
Giorgi Margvelashvili of ruling Georgian Dream; Davit Bakradze of UNM and Nino Burjanadze of Democratic Movement-United Georgia party are the main contestants in the race.
While Margvelashvili is clearly a frontrunner, probably the major intriguing aspects of the October 27 vote is whether the race goes into second round or not.

The race took a new twist after PM Ivanishvili said on October 17 he would advise Margvelashvili to pull out from race if the vote goes into second round; since then GD presidential candidate reiterated for number of times that he's convinced of winning in the first round, but he will withdraw from the race in case of run-off. Some have suggested that it might be part of GD's voter mobilization tactic, as possible low voter turnout is viewed as one of its main challenges in the upcoming election.
For the UNM the upcoming election is mainly about reaffirming its status of the major opposition force in the country, which can be achieved if Bakradze and not Burjanadze becomes a runner-up; this is also important in the view of local elections scheduled for spring, 2014.
Key Election Rules and Procedures
A candidate will be declared an outright winner of the October 27 presidential election if he or she garners more than half of all the votes cast.
The Central Election Commission (CEC) has maximum of twenty days after the election day to summarize final vote tally.
If none of the candidates garners more than half of the votes, a run-off between the top two candidates will have to be held two weeks after the CEC announces final results of the first round.
If a candidate decides to withdraw from the race in the run-off, he or she has to notify CEC in written ten days before the second round vote. In that case only a name of a remaining candidate will be put on ballot papers and this candidate will be declared the winner of the run-off if he or she receives even one vote.
Election Administration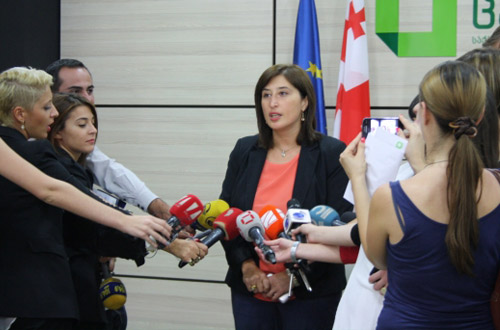 Chairperson of the Central Election Commission (CEC), Tamar Zhvania, speaks with journalists after being confirmed on the post on September 11, 2013. Photo: CEC
There is a three-tiered structure of election administration – precinct, district and central election commissions.
Central Election Commission (CEC) consists of 13 members including its newly appointed chairperson Tamar Zhvania.
Former chairman Zurab Kharatishvili stepped down eleven weeks before the presidential election to himself join the race.
Tamar Zhvania became new chairperson on September 11 through a broad consensus. She was recommended for the position by a group of eleven civil society organizations, then nominated President Saakashvili and approved by GD-appointed members of the CEC.
Seven members of CEC are appointed by political parties – one is from UNM party and six others represent six parties united within the Georgian Dream coalition.
Six remaining CEC members are certified election administrators, who were appointed by the President and approved by the previous Parliament in which UNM held the majority.
Similar to CEC, district and precinct commissions consist of 13 members each.
There are total of 73 district election commissions.
Number of precinct election commissions is 3,689, plus 50 polling stations in 35 countries. Two polling stations were in Afghanistan for the Georgian troops for whom early voting was held on October 20.