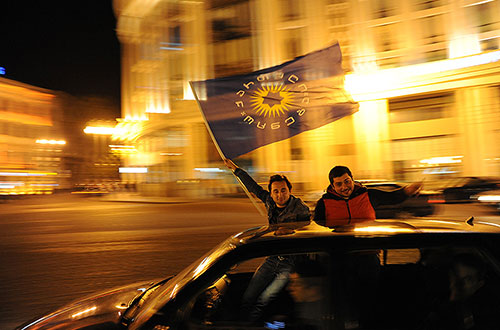 GD supporters celebrate after exit poll results were announced, October 27. Photo: Eana Korbezashvili/Civil.ge
Two separate exit polls, commissioned by two Tbilisi-based private television stations, predict Georgian Dream ruling coalition's presidential candidate, Giorgi Margvelashvili, is set to win outright in Sunday's vote without requiring second round run-off.
According to preliminary results of exit polls, commissioned by Rustavi 2 TV to GfK, Margvelashvili leads with 66.7% of votes, followed by UNM presidential candidate Davit Bakradze with 20.2% and leader of Democratic Movement-United Georgia party, Nino Burjanadze, with 7.5% of votes.
Exit polls, commissioned by Imedi TV to ACT, give Margvelashvili 68% lead, followed by Bakradze with 17.1% and Burjanadze with 9.9%.
Irakli Batiashvili, chief of Burjanadze's campaign headquarters, claimed an hour before polling stations were closed that second round of vote was inevitable between Burjanadze and Margvelashvili and alleged that UNM and GD would try to tamper with results. He also alleged that exit polls were in fact commissioned by UNM and GD through their loyal TV channels and called on the voters not to get "manipulated" by exit poll results.
In both of the exit polls an outspoken leader of the Labor Party, Shalva Natelashvili, is fourth with 2.1% (Rustavi 2 TV exit poll) and 2.2% (Imedi TV exit poll), followed by Christian-Democratic Movement leader Giorgi Targamadze with 1.1% (Rustavi 2 TV exit poll) and 1% (Imedi TV exit poll).