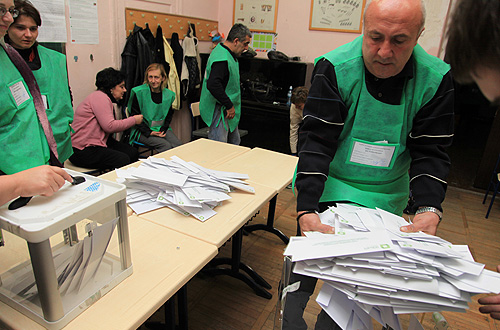 Election officials at a polling station in one of Tbilisi's Saburtalo districts empty ballot box, October 27. Photo: Guram Muradov/Civil.ge
Vote count in Sunday's presidential vote is underway as GD and its supporters celebrate outright victory of its candidate Giorgi Margvelashvili based on two separate exit poll results.
UNM presidential candidate, Davit Bakradze, who is a runner-up according to exit polls, has conceded defeat and congratulated Margvelashvili on "winning presidential election."
The Central Election Commission has already started putting online vote tallies from precincts.
Results from 440 polling stations out of total 3,741 were released as of shortly after midnight on Monday, showing Margvelashvili in big lead, winning the race outright in the first round.
Voter turnout, according to the Central Election Commission, was 46.6% in the October 27 presidential election, lower than in last year's parliamentary vote when the figure stood at 61.31%.
International Society for Fair Elections and Democracy, the largest Georgian election observer group, said that election day was "calm" and voting was held in observance of procedures in the majority of polling stations. Among "the significant shortcomings" were cases of casting ballot with invalid IDs and problems with voter lists in Batumi in Adjara Autonomous Republic, said ISFED, which has 1,200 observers across the country. Its observers filed so far up to 45 complaints.
Another Tbilisi-based watchdog group, Transparency International, which has 370 observers, said that its monitors observed 70 cases of "significant procedural violations", filing so far 34 complaints.