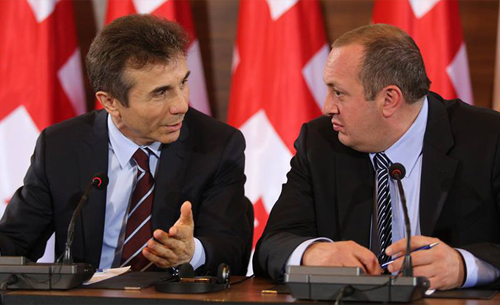 PM Bidzina Ivanishvili (left) and president-elect Giorgi Margvelashvili (right) seen during a press conference in Tbilisi on October 28. Photo: PM's press office
PM Ivanishvili, who plans to step down next month, said he will name successor later this week, most likely on Saturday.
Ivanishvili and president-elect Giorgi Margvelashvili held a lengthy joint news conference on October 28, a day after the presidential vote in which GD's presidential candidate won outright victory with over 62% of votes.
Ivanishvili said that before announcing publicly his pick for PM, he has to at first to discuss his choice with GD coalition leadership and GD parliamentary majority; discussions are planned for Friday and Saturday.
He remained tight-lipped about his preferred candidate and only said the candidate "will be completely acceptable for you and a very efficient man."
What is known so far about Ivanishvili's pick is that he is a member of the current cabinet. Recent rumors swirling in the media center on healthcare minister Davit Sergeenko and interior minister Irakli Garibashvili.
Ivanishvili said that after quitting PM's post, following the inauguration of the president-elect, at the first stage he may communicate privately with cabinet members if they seek for his advice, but it won't last for a long.
"I can criticize them publicly and point them at a right path publicly," he said.
Ivanishvili said that previously he was blamed by opponents for being a "Kremlin puppet" and "pro-Russian" and now he is a target of criticism for allegedly wanting to rule the government from backstage without having any formal accountability.
"No one takes these allegations seriously anymore. My style has always been consistent and transparent, leaving no reason for suspicion," he said.
President-elect Margvelashvili said that Ivanishvili is "a huge authority" for him. "Of course his opinion will have a huge importance," he added.
Ivanishvili responded: "I do not think that Giorgi [Margvelashvili] will need to ask for my advices often, because we have very much similar views."

Ivanishvili 'Surprised' by UNM's Vote Results
In his opening remarks at the news conference, Ivanishvili praised October 27 presidential vote as "European election", but complained about relatively low voter turnout, saying that unlike UNM supporters, GD supporters were not active enough, which, he said, caused higher vote share for UNM presidential candidate Davit Bakradze (21.73%).
He said that his calls to supporters for a high voter turnout "were not heeded."
"Over 21% of votes, garnered by the [United] National Movement, were a huge surprise for me," Ivanishvili said. "I was not expecting it even in the worst case scenario. It shows what I have always been saying that we lack political culture – that's from my point of view, I am not insulting anyone."
"I could not have imagined them garnering more than 18% of votes," he said.
Ivanishvili said he hopes "high percentage will increase their [UNM's] responsibility and they become more constructive."
Bakradze conceded defeat shortly after exit poll results were announced. Nino Burjanadze, who came third in the race with 10.18%, also conceded defeat; she said on October 28 that although pre-election period was much freer than during the previous elections, it was not fair and there was no level playing field.
Asked if based on election results he recognizes UNM as the "major opposition force", Ivanishvili responded: "It does not matter much anymore whether I recognize it or not. There are election results and I recognize these results; we have what we have and we all have to accept it."
He also said: "Supporters of UNM are our citizens and we should love and respect them; we are all members of one society."
Ivanishvili reiterated that he is strongly against of early parliamentary elections.
Margvelashvili on UNM

President-elect Margvelashvili said that the only issue over which he sees it possible to cooperate with the UNM is foreign policy.
"I think the only issue which we can agree on is voicing Georgia's position on international arena. I hope that hatred, which is often showed by some members of [UNM], will not obstruct them in having close cooperation in promoting non-recognition policy [of Abkhazia and South Ossetia] on the international arena," he said.
"As far as internal politics are concerned, I can't imagine an issue over which we can be united," he added.
Asked about possible criminal proceedings against outgoing President Saakashvili, Margvelashvili responded it was not within his authority to decide about anyone's criminal responsibility.
"But I can say with full confidence that there has not been and there will not be politically motivated prosecutions," he said.
Margvelashvili said that his election as president marks the "end of cohabitation" in a sense that it will put an end to confrontation between the presidency and the government and turn this relationship into cooperation.
"The end of cohabitation does not mean launch of one-party system. There is UNM minority group in the Parliament," he said.
He said that winning of presidential election means that power will now be "consolidated" and "it will become much easier for the government and the parliament to work."
"The country will no longer have the president, whose goal is to slow down pace of reforms carried out by the government," Margvelashvili said.
Asked if outgoing president should be invited to attend inauguration of president-elect, Margvelashvili responded: "I am sure that after election of next president [referring to his successor] there will be environment that will give me this privilege to attend inauguration of future president."
Margvelashvili on Vilnius Summit
After Margvelashvili takes office following inauguration on November 17, Lithuania will be his first foreign trip in the president's capacity to participate in the EU Eastern Partnership summit in late November.
"Of course, the Vilnius Summit is extremely important because this is a confirmation of our European choice and also recognition of it by our partner countries," he said.
"Initialing of the Association Agreement and the free trade agreement will be an extremely important beginning for us, because actually an institutional foundation for strengthening Georgia's status as of a member state of European family will be laid there," he said.
"But you know that there is an entire period that will follow after the Vilnius summit – this is actually one-year period when lots of homework has to be done" in order to have the Association Agreement signed by autumn, 2014.
Margvelashvili on Ties with Russia
The president-elect said that the government "set a very correct and firm vector" in respect of relationship with Russia.
"There are difficulties on this path," Margvelashvili said and added that there are also "successes" and pointed out negotiations held by PM's special envoy Zurab Abashidze, which, he said, led to reopening of the Russian market for the Georgian products.
"These [negotiations] are successful also because it helped to lower temperature and distrust in bilateral relations and to defuse tensions," Margvelashvili said.
Commenting on Georgia's presidential vote, Russia's Foreign Minister Sergey Lavrov said: "Judging from reports, these were free and fair elections."
"We hope these new authorities will carry out friendly, good neighborly policy in respect of Russia with taking into account current realities in this uneasy region," Lavrov told journalists.
Margvelashvili said that 'borderisation' process by the Russian troops across the breakaway South Ossetian administrative boundary line, which is now suspended, "was extremely problematic."
He said that UNM was using this problem for "PR purposes" ahead of the election, but despite of that the government handled situation well and instead of stirring "political hysteria", focused on providing assistance to local population living in the areas adjacent to the administrative boundary line; on the other hand, he said, the government focused on raising the problem of 'borderisation' on the international arena.
"We will continue trying to lower tensions and will try to resolve all the painful issue in a framework that has always been recommended to us by international community representatives. These relations [with Russia] are extremely difficult, but we are firm in our decision that there will be no aggressive approach from our side and on the other hand we will be principled about continuation of non-recognition policy and on the issue of return of refugees. Georgia will never tolerate injustice that took place in our country in 2008 [August war]," Margvelashvili said.