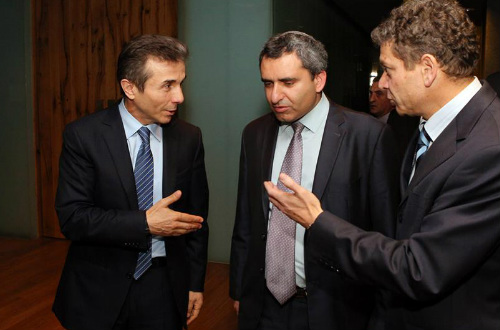 From left to right: Georgian PM Bidzina Ivanishivli; Israeli Deputy Foreign Minister Ze'ev Elkin and Israeli Ambassador to Georgia Yuval Fuchs, October 31. Photo: Georgian PM's press office
Israeli government has decided "in principle" to lift visa requirements for the Georgian citizens, Israel's Deputy Foreign Minister Ze'ev Elkin said in Tbilisi on October 31.
Like with many other countries, Georgia has unilateral visa free rules for Israeli citizens.
Elkin, who is in Tbilisi for a regional forum of Israeli ambassadors, met PM Ivanishvili and said that "technical" aspects now remain to be negotiated before non-visa rules go into force.
"We had a very good meeting with the Prime Minister in follow-up to his visit to Israel [in June, 2013]. First of all, I am glad to inform you that the Israeli leadership has decided to meet his [PM Ivanishvili's] initiative and launch talks on preparing an agreement on non-visa entry rules to Israel," Elkin told journalists.
"We see Georgia as one of the largest and important partners in the world. We have excellent relations. After the Prime Minister's visit we are developing active relations in many fields and therefore it is natural to have non-visa rules between the countries with such close and friendly relations," Israeli Deputy Foreign Minister said.
"I hope that we will carry out relevant technical negotiations very fast, prepare an agreement and sign it and there will be non-visa rules between Georgia and Israel," Elkin said. "Our Interior Minister has already notified his Georgian counterpart about it. And I was officially instructed by [the Israeli] government to launch negotiations."
PM Ivanishvili said his visit to Israel in June was one of the most successful foreign trips for him.
"I requested cancellation of visa rules and they did it and today they brought such a present to us," PM Ivanishvili said.
Georgian Foreign Minister, Maia Panjikidze, said that at the first stage visa free travel rules will apply for diplomatic and service passports holders and talks will then continue to apply it to ordinary passport holders as well
"This process will take several months. We are launching talks now and in several months Georgian citizens with ordinary passports" will be able to travel to Israel without visa, Panjikidze said.