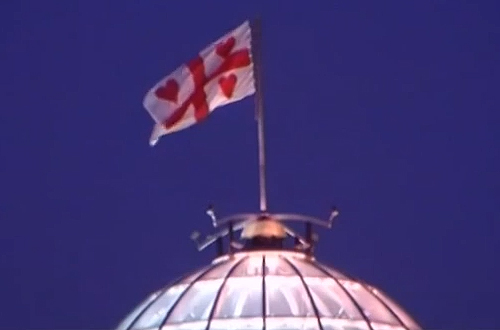 Flag with four heart symbols, instead of the Georgian national flag, flies on top of the presidential palace on November 9, 2013.
Citing need for a scene for making a music video, president's administration raised on Saturday on top of glass dome of the presidential palace in Tbilisi a variation of the Georgian five-cross national flag, which has four red heart symbols in corners instead of four crosses.
After the move caused buzz among Georgian social networking site uses, head of the outgoing president's administration, Andro Barnovi, posted a brief statement on his Facebook page: "This flag is raised just for a day due to shooting of a music video inside the palace. The Georgian national flag will return back on top of the dome tomorrow afternoon."
On Saturday evening the government released a written statement saying that raising flag other than the national one over the presidential palace "constitutes a gross violation of the law."
"Scornful attitude towards the national symbols by still incumbent president is inadmissible," reads the statement. "We call on President Saakashvili to observe the law and to immediately raise the Georgian national flag over the presidential residence."
Speaking to Rustavi 2 TV later on Saturday head of the president's administration, Andro Barnovi, said accusing Saakashvili of disrespect to the five-cross national flag – the one which was introduced as Georgia's national flag by Saakashvili himself in 2004 and which before that served as UNM's flag – is "illogical."
"I want to ask the society and the government not to use everything [as a pretext] for hatred," Barnovi said. "President is completing his term in office and a music video with performance by… [pianist] Khatia Buniatishvili is shot."
During the most recent convention of the UNM party in early October, Saakashvili offered to make the flag with four heart symbols UNM's flag. Barnovi said the flag was not yet adopted as UNM's flag because of "differing opinions" on the matter within the party.